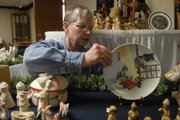 Event
Festival of Nativities
Where: Centenary United Methodist Church, 245 N. Fourth, Lawrence
Age limit: Not available
Cost: Not available
-->
-->
It's one of Lawrence's best-kept holiday secrets - though the organizers don't intend it to be that way.
The Festival of Nativities enters its 13th year as a local Christmastime tradition. The display of more than 300 Nativity sets and related art will be open to the public most weekends in December, and co-organizer Nancy Atchley would like more people to see the reason behind the season.
"Every year we get the comment, 'We haven't known this is here,'" she says. "We see steady traffic, but we'd like more people to appreciate this with us."
The organizing committee will change up the display this year, as they always do, to make the experience unique for repeat visitors.
"We're planning to display all of the Nativities from all around the world in one location rather than having them scattered throughout," Atchley says. "Different people have collected items from all over."
Some participants give the sets to Centenary United Methodist Church, the site of Festival of Nativities, and others loan them for the holidays.
"We're getting a large number of ones that come from different places," Atchley says. "Let me think ... we have sets from Peru, Mexico, Poland, Russia ... El Salvador, Indonesia, the Phillippines. There's more, too."
The Nativity materials are as varied as their origins. Some are wood, fabric - even straw. Others are more ornate, Atchley says.
The scene also will include about 150 Nativity ornaments on trees and in different displays. Atchley also says the committee use poinsettias to decorate and plenty of lights.
It will be a unique sight for those who come to see it, Atchley says. And she's hopeful a cross-promotion with another event, the Holiday Homes Tour, will increase traffic.
"We'll have a donation basket for Health Care Access one day," Atchley says about the home tour's beneficiary. "We always have a donation basket for different groups, like the Ballard Center, Habitat for Humanity."
Copyright 2018 The Lawrence Journal-World. All rights reserved. This material may not be published, broadcast, rewritten or redistributed. We strive to uphold our values for every story published.