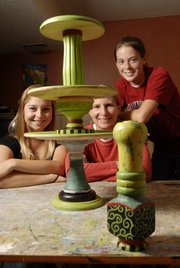 Past Event
$2 donation for admission.
When: Monday, November 26, 2007, 10 a.m. to 8:30 p.m.
Where: Liberty Hall Cinema, 644 Massachussets Street, Lawrence
Cost: $2
-->
-->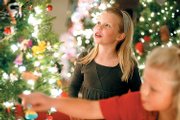 Christmas trees have become unique pieces of art around Lawrence thanks to The Shelter Inc.'s annual Festival of Trees.
The festival, now in its 21st year, is the shelter's top fundraiser and gives people a chance to display their talents while helping raise money for Douglas County children in need of care. Trees, wreaths and ornaments will be auctioned Tuesday at Liberty Hall, 642 Mass. The trees also can be viewed throughout this week.
"It's amazing the talent and creativity we have here in Lawrence," said Karen Smoot, coordinator for the festival and a Shelter board member. "People always wonder, 'How does it look so good year after year?' People are creative."
This year, people can expect to see more than 50 trees, including a spiral "Wheeley Great Christmas Tree" decorated with cars made by Lawrence Arts Center pre-school children, a 2-foot tall "platter" tree made by Joanne Renfro, Lawrence resident and artist, and a chocolate and quarter "mint" tree created by Commerce Bank.
All involved in the festival get something out of it, Smoot said.
"My favorite thing about the festival is how everybody who is involved with it feels good about it," Smoot said. "They enjoy participating. Not only are they doing something good for kids in the community, but in my experience with volunteers they don't feel appreciated, but this is one of those events where they do feel appreciated."
The spirit of giving at the festival coincides with The Shelter's mission.
Since 1981, The Shelter Inc., 105 W. 11th St., has provided several services to youths, including two emergency/temporary shelters for juveniles, juvenile intake and assessment services, and adoption and foster care services. There are currently 31 open adoption cases.
"We provide help to children from anything like abuse and neglect to running away to shoplifting to major criminal offenses," said Judy Culley, The Shelter's executive director. "We do things to try to keep them out of the system and to prevent further steps into the system."
Culley helped found The Shelter, which started as a single emergency residential shelter for youths and has grown into a multifaceted organization.
Wint Winter Jr., a founding board member and Peoples Bank president and CEO, said The Shelter is one of the enduring nonprofits in Lawrence.
"The Shelter, with Judy's leadership, has not only survived during difficult times but is also very local," Winter said. "I think the maturation of the Festival of Trees has somehow matched the maturation of the shelter itself."
The festival has had a high turnout each year and has helped The Shelter consistently raise more $40,000. Last year, it raised nearly $46,000.
The final number raised from the festival isn't as important to Culley as it is the awareness it creates for children's and families' needs.
"We are very glad to have a way to let people know about the needs of kids and to have the people who care about kids participate with us in a fundraising event for them," she said. "People end up hearing about us because of the festival - that's a side benefit."
For Winter, the festival also is a great start to the holiday season.
"Over the years, it's become a piece, a little thread that makes up the fabric of Lawrence," Winter said. "It signals the vitality of the volunteerism in our community and the festive nature of the holiday season."
Copyright 2018 The Lawrence Journal-World. All rights reserved. This material may not be published, broadcast, rewritten or redistributed. We strive to uphold our values for every story published.