EW names J.K. Rowling entertainer of the year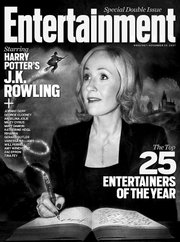 New York - J.K. Rowling's magical, Midas touch has landed her on the cover of Entertainment Weekly as the magazine's entertainer of the year.
The magazine said the "Harry Potter" author, who has sold nearly 400 million copies of her boy-wizard series that's been adapted into a megasuccessful movie franchise, deserved props for getting "people to tote around her big, old-fashioned printed-on-paper books as if they were the hottest new entertainment devices on the planet."
Rowling was in a class by herself on the magazine's list of the year's top entertainers, which was separated by editors into five other categories that evoke school cliques: prodigies, class clowns, most popular, most buzzed-about and valedictorians.
The magazine named George Clooney - actor, director, activist - a valedictorian because he has "deftly balanced box-office viability with personal responsibility." Will Smith, Angelina Jolie and the cast of "The Sopranos" also made the grade, among others.
Matt Damon made the list of most popular, as did Carrie Underwood, Katherine Heigl, Johnny Depp and Kanye West.
The prodigies: Zac Efron, Shia LaBeouf, Rihanna and Miley Cyrus.
Eagles were ready to retire before new album
Los Angeles - The Eagles were ready to hang up their guitars and microphones, but instead they regrouped and recorded their first new album in 28 years.
"We either had to fold our tent or make a record," guitarist Glenn Frey tells CBS' "60 Minutes" in an interview scheduled to air Sunday.
"We were going to be done," Frey says. "And I wouldn't want to have it end ... where ... you're just sort of doing a caricature of yourself, you're just doing a tribute to yourself."
The band's new album, "Long Road Out of Eden," debuted at No. 1 when it was released last month.
"It came out better than I thought," vocalist-drummer Don Henley says. "I think a great many of the songs on it will stand up with the best work we've ever done."
The Eagles had a string of hits in the '70s, including "Hotel California," "Take It Easy" and "Life in the Fast Lane." Henley also had a successful solo career, but he says the Eagles are better together.
"There's a certain sound that we make when we sing together that over the past 35 years has become ingrained in people's minds," he says. "I can't sound like that with anybody else except these guys."
Report: Brad Pitt pulls out of 'State of Play'
Los Angeles - Brad Pitt has backed out of a Universal Pictures movie set to begin filming this year, a newspaper reported.
"State of Play" was to star Pitt as a political consultant-turned-journalist who helps investigate the death of a congressman's mistress.
The actor left the production Wednesday, Hollywood trade paper Daily Variety reported on its Web site.
"Brad Pitt has left the Universal Pictures production of 'State of Play,"' the studio said in a statement. "We remain committed to this project and to the filmmakers, cast members, crew and others who are also involved in making the movie. We reserve all rights in this matter."
A message left early Friday for Pitt's publicist, Cindy Guagenti, was not immediately returned.
Nanni Moretti-directed Turin Film Festival opens
Rome - The Turin Film Festival, traditionally focusing on art-house cinema and indie movies, opened its 25th edition Friday - the first under the direction of award-winning filmmaker Nanni Moretti.
Moretti said he wants his festival to be "joyful but serious."
"It should not only address the more radical cinephiles, but all those who have a passion," he said.
The 54-year-old Moretti was brought in last year, but his appointment caused some controversy - even leading him to briefly resign - as some of the festival's organizers reportedly opposed the choice.
He said he eventually decided to return because of a "sense of responsibility."
Nobel laureate sues publisher for Nazi claims
Berlin - Nobel laureate Guenter Grass has filed a lawsuit against the publisher of his biography for claiming that he voluntarily joined the Nazis' murderous Waffen-SS unit during World War II, his lawyer said Friday.
Attorney Paul Hertin said he filed a request for an injunction against Random House - which owns the biography's publisher Goldmann Verlag - earlier this week at a regional court in Berlin. It contained an affidavit by the 80-year-old writer in which he contends he was drafted to the SS and did not join the service voluntarily, Hertin said.
It was not clear exactly what the injunction would require the publisher to do.
In Michael Juergs' biography "Guenter Grass," which was published in an updated version in October, the author writes that "Guenter Grass admitted ... that as a 17-year-old he volunteered to join the Waffen-SS," Spiegel Online reported on Friday.
Grass, who became a voice of morality in postwar Germany for urging Germans to confront their World War II-era crimes, dropped a bombshell in his 2006 memoir when he revealed that as a teenager he had fought in the elite Waffen-SS, the combat arm of the Nazis' most fanatical organization.
Copyright 2018 The Lawrence Journal-World. All rights reserved. This material may not be published, broadcast, rewritten or redistributed. We strive to uphold our values for every story published.