Movie
Enchanted
***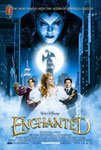 Wide-eyed, would-be princess Giselle (the irresistible Amy Adams) is banished by a wicked queen (Susan Sarandon) from her idyllic cartoon playland to the harsh reality of Times Square in this infectious Disney parody. "Enchanted" has a song in its heart and a tongue in its cheek - both in animated and live-action forms.
Get movie listings, reviews, and more at lawrence.com
-->
-->
"Enchanted" is the best Disney fantasy-musical since "Mary Poppins," a hilarious, dazzling send-up of the thing that made Disney what it is today: fairy-tale princesses.
It features a delightful, wide-eyed comic performance by Amy Adams of "Junebug" and another singing-dancing scene-stealing turn by James Marsden ("Hairspray"). This blend of animation in the classic Disney (hand-drawn) style and modern romance has wit and charm to burn.
We begin as we always do, "once upon a time," in an animated fairy-tale land called Andalasia. That's where Giselle, equal parts Snow White, Cinderella, Belle and Ariel, sings her heart out waiting for her "True Love's Kiss." Her singing is so sweet that the critters of the forest come at her call, helping around the house.
And so does the handsome Prince Edward. He takes time off from troll hunting to sing back to her. He knows, on first sight, that the lovely, sweet Giselle can "complete my duet."
But the evil stepmother witch-queen (Susan Sarandon) won't hear of it. Edward's marriage will strip her of power. So she dresses up like a crone and tosses Snowy Giselle down a well. And darned if girlfriend doesn't turn up in New York.
She's utterly lost in this flesh-and-blood reality of rude people and harsh lighting. But the handsome single-dad Robert (Patrick Dempsey of "Grey's Anatomy") is there to help.
What follows is a delirious "fish out of water" romp as Giselle carves dresses for herself out of Robert's curtains and summons New York's "woodland creatures" (the rats and pigeons are merely the cuddlier ones) to help her. Her "Happy Working Song" does it every time.
Giselle doesn't have to be animated to let her heart sing. What's brilliant is the way jaded, cynical New York sings and dances with her. The city, especially Central Park, has never looked so lovely.
An A-list of Disney animation songwriting talent did the tunes, and the production numbers rival anything in "High School Musical," or for that matter, "Beauty and the Beast."
Director Kevin Lima ("Tarzan") finds the giggles in Bill Kelly's ironic script, commenting on, referencing, but gently goofing on fairy-tale characters and Disney cartoon conventions. "Enchanted" is also shot through with the sweetness and heart of the best Disney movies.
But Adams and Marsden sell this, and how. Adams never loses Giselle's sense of wonder and confusion over a world where love isn't always "happily ever after," where people actually get angry. And Marsden, spot-on from his bouncy Disney-prince hair to his Gaston-in-"Beauty and the Beast" voice and machismo, just kills. Who else could describe his true love as "my other half, my one coquette, my true love's duet"?
Here's one that is almost certain to become Disney's next classic.
Copyright 2018 The Lawrence Journal-World. All rights reserved. This material may not be published, broadcast, rewritten or redistributed. We strive to uphold our values for every story published.