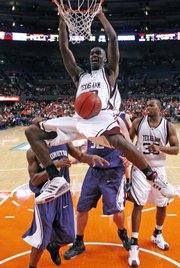 New York — No. 16 Texas A&M; 77, Washington 63
Donald Sloan scored 18 points, and Texas A&M; held Washington without a field goal for a key five-minute stretch in the NIT Season Tip-Off semifinals.
Joseph Jones added 17 points for the Aggies (5-0), who will play the winner of Syracuse and Ohio State on Friday night in the championship game at Madison Square Garden.
Jon Brockman had 21 points and 15 rebounds to lead Washington (3-1).
Aggies freshman DeAndre Jordan continued his stellar play. He came into the game having made 16 straight field goals to set a school and Big 12 record. Jordan made his first attempt, but missed a follow to end his streak at 17 straight. Jordan finished with eight points and 10 rebounds.
Oklahoma 74, Morehead State 42
Norman, Okla. - Freshman Blake Griffin notched his third double-double of the season with 16 points and 12 rebounds to lead Oklahoma against Morehead State.
Griffin started a 21-2 second-half run with a two-handed jam off an alley oop from Austin Johnson, and Morehead State (1-3) managed only one field goal in the next 10 minutes.
Griffin had eight points in the spurt, including a two-handed dunk off an offensive rebound, and the Sooners led 55-30 after Cade Davis' two free throws with 9:50 remaining.
Tony Crocker added four 3-pointers and 14 points, Omar Leary scored 13, and Longar Longar had 10 points and eight rebounds for the Sooners in coach Jeff Capel's 100th career win.
Illinois 65, Oklahoma State 49
Lahina, Hawaii - Trent Meacham scored 17 points, and Illinois beat cold-shooting Oklahoma State in the third-place game of the EA Sports Maui Invitational.
The Fighting Illini (3-1) bounced back from a 79-66 loss to No. 13 Duke in the semifinals and played most of the game without leading scorer Brian Randle.
The same couldn't be said for the Cowboys (2-3), who lost 91-61 in the semifinals to No. 11 Marquette. The Cowboys shot 30.6 percent for the game (15-for-49), including 6-for-23 in the first half as they fell behind 30-17.
Terrel Harris had 12 points to lead Oklahoma State.
Randle, a 6-foot-8 senior who averaged 14.8 points over the first three games of the season, was injured seven minutes into the game when he was defending Oklahoma State's Marcus Dove on a drive to the basket. An Illinois spokesman said he suffered a left leg contusion and he never returned to the game, finishing without a point.
Calvin Brock added 12 points for the Illini, whose bench outscored Oklahoma State by two points in the first half.
Copyright 2018 The Associated Press. All rights reserved. This material may not be published, broadcast, rewritten or redistributed. We strive to uphold our values for every story published.