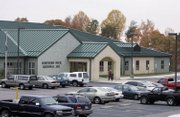 Warsaw, Va. — The Northern Neck Regional Jail doesn't have the comforts of Michael Vick's Georgia mansion, but at least the disgraced quarterback will get to enjoy a hot turkey dinner this Thanksgiving. And, perhaps, a non-contact visit with a loved one.
Vick unexpectedly turned himself in Monday and will be housed at the jail until his sentencing on a federal dogfighting charge in three weeks. He faces up to five years in prison.
Jail officials wouldn't discuss their new celebrity inmate, but a peek inside the facility provided a glimpse of what life for the Atlanta Falcons quarterback will be like in the coming days. And it's not exactly festive.
The jail houses inmates charged with offenses from misdemeanors to murder. About 40 of the approximately 425 current inmates are women, who are housed separately. Some inmates are confined to small cells, while others are housed in dorms.
Vick can forget his flashy suits. Inmates wear standard-issue black-and-white striped uniforms. One bonus: they get to wear their own shoes.
Meals are delivered to each of the jail's 20 housing units. Thursday's will be extra special: turkey, stuffing, rice, cranberry sauce and sweet potato pie.
Conjuring up a jolly holiday atmosphere might be a bit of a stretch even for the most determined inmate. The squat facility is partially encircled by endless loops of barbed wire. Inside the gray cinderblock lobby, grim-faced visitors slump in plastic chairs.
Copyright 2018 The Associated Press. All rights reserved. This material may not be published, broadcast, rewritten or redistributed. We strive to uphold our values for every story published.