Photo Gallery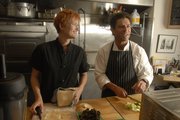 Krause Dining
Follow the flavor
Krause Dining, 917 Del., doesn't operate on a set schedule. To find out when it will be open, call 838-9830.
When guests arrive at Krause Dining, they rarely know what will show up on their tables for dinner - and with no menu, they don't have a choice in the matter.
But chef Robert Krause bristles at the notion that his establishment isn't for picky eaters.
"I consider myself a picky eater," Krause says. "I want the best."
That's the philosophy that's driving Krause's business, which he has operated out of his east Lawrence home since April.
After a long struggle with the city to gain the proper permits, Krause and his wife, Molly, are finally doing what they love: making fine food for those who appreciate it.
Krause was trained at the Culinary Institute of America in New York and has worked at restaurants in Florida and California, among other places.
He and Molly lived in Lawrence from 1995 to 1999, operating the New City Cafe in Topeka. They moved away for a couple of years, but when they returned to Lawrence they knew they eventually wanted to offer a unique dining experience.
They operated their restaurant out of 811 N.H. in 2005, after his home-based business was ruled illegal because it wasn't zoned for commercial use. Eventually, in January of this year, city commissioners approved a special-use permit to allow the Krauses to operate out of their home.
Now, the Krauses offer a dining experience at their home on an irregular basis - anywhere from zero to five times a week. Guests must call ahead to learn the schedule to make reservations.
An evening at Krause Dining works something like this: Diners gather at their home around 7 p.m. The original part of the house was built in the 1850s, with a stunning addition of a dining room designed by Lawrence architect Dan Rockhill.
After cocktails and a few hors d'oeuvres outside (when the weather is nice) or inside (when it's not), the guests are seated for dinner.
They then begin a six- or seven-course feast, with each course paired with wine. The portions are small in size but big on taste, which each dish combining multiple ingredients and flavors. The dinner usually ends around 10:30 p.m.
Molly Krause says, because of that complexity, it's important to explain all of the components of each course.
"We stand and describe the dish when we serve the table," she says. "We stop and tell the components of the plate."
Best ingredients
That's also the case because there is no menu to order from.
"The question is what is the best product we can get our hands on right now," Robert Krause says. "That drives our menu."
On a recent week, that included lobster from Maine and lamb from Australia, both shipped in by FedEx.
"I can call right now and get fish overnighted from Hawaii," Krause says. "That's a cool world."
The menu that evening also involved risotto with truffles, Mongolian spiced shrimp on a falafel, foie gras on a celery apple fritter and pine nut brittle on persimmon mousse.
The average meal price is $75, not including wine. The Krauses have started offering what they call Krause Community Dining, with fewer courses offered at a lower price.
But Robert Krause says he won't lower the quality of ingredients just to lower the price of meals.
'Incredible taste'
One advantage of cooking for no more than 30 people in one evening is the personal attention to detail Krause can pay both to the food and to his diners.
Guests are welcome in the kitchen, and Krause makes it a point to serve some of the courses himself.
"Robert literally makes all the food, every morsel," Molly Krause says. "Everything is made by our hands."
Robert Krause adds: "If you don't like the food, it's not because it's not been prepared right. It's just because you don't like it."
Count Web Golden among those who do like the food. The Lawrence attorney and his wife, Joan, have eaten at the Krause establishments an average of every other month.
"I think the place is just an incredible dining experience," Web Golden says. "It's not for everyone. People that like a steakhouse aren't going to be real hip on this. It's more European dining - small portions, incredible detail in preparation and presentation, and incredible taste."
He particularly remembers a soft-poached quail's egg served in a butter sauce on a soup spoon.
"I've heard the phrase 'a burst of flavor,' but I've never experienced something that was truly an incredible burst of flavor like that," Golden says.
Diane Horning is another fan. She remembers going through chemotherapy last year and not having much hunger for anything - until she was invited to dinner at Krause Dining.
"I don't have a huge appetite," she says, "yet I manage to clean my plate for every one of those amazing courses, sometimes wishing I could lick my plate without embarrassing myself.
"One thing Lawrence prides itself on is being extraordinary and unexpected in a part of the country most people fly over. To me, the Krauses are part of that tradition."
Copyright 2017 The Lawrence Journal-World. All rights reserved. This material may not be published, broadcast, rewritten or redistributed. We strive to uphold our values for every story published.