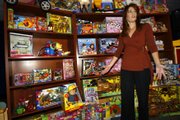 Washington — Despite a record number of recalls this year, potentially dangerous toys remain on store shelves days before the start of the busy holiday shopping season, consumer groups warned Tuesday. Federal regulators, under fire for lax enforcement, urged shoppers to be vigilant.
The Consumer Product Safety Commission has worked closely with Mattel Inc. and other manufacturers on recalls of millions of toys tainted with lead and other products, yet two consumer investigations released Tuesday cited possible violations, including sales of toys with small parts that could pose a choking hazard.
"Why is it we are the ones that are getting this information out to parents, and not the government and not the toy companies?" asked Charles Margulis, of the Center for Environmental Health.
In CPSC's annual toy safety message, Nancy Nord, acting head of the CPSC, sought to reassure parents that the agency was doing all it could to remove unsafe toys. She noted the Chinese government recently had signed agreements to help prevent lead-painted toys from reaching the U.S.
Still, Nord, who was traveling Tuesday and could not be reached for comment, urged parents to read product warning labels carefully and sign up to receive direct e-mail notices of recalls at www.cpsc.gov.
Joan Lawrence, a vice president of the Toy Industry Association, said more recalls were probable given recent manufacturer retesting of products. "That's why it's so important for consumers to pay attention to recall notices," Lawrence said.
Among the biggest toy hazards cited by CPSC:
¢ Riding toys, skateboards and inline skates that could cause dangerous falls for children.
¢ Toys with small parts that can cause choking hazards, particularly for children under age 3.
¢ Toys with small magnets, particularly for children under age 6, that can cause serious injury or death if the magnets are swallowed.
¢ Projectile toys such as air rockets, darts and sling shots for older children that can cause eye injuries.
¢ Chargers and adapters that can pose burn hazards to children.
The series of announcements Tuesday, coming three days before the start of the busy shopping season, helped cap a year of harsh congressional criticism of CPSC enforcement following a number of recalls involving millions of lead-tainted toys and other products - the highest number of recalls ever due to product defects. The agency's staff has dropped from almost 800 employees in 1974 to an all-time low of about 400 employees now.
Both the House and Senate are now considering legislation to overhaul the product safety system by substantially increasing CPSC's budget, raising the cap on civil penalties for violations and giving the CPSC authority to provide quicker notice to the public of potentially dangerous products.
In its 57-page annual survey released Tuesday, U.S. PIRG agreed that toys with small magnets as well as small parts that pose choking hazards create significant risks.
Between 1990 and 2005, at least 166 children choked to death on children's products, accounting for more than half of all toy-related deaths at a rate of about 10 deaths per year, the group said. Several times this year potentially dangerous toys were sold without the required warning labels of possible choking risks while the CPSC also has been slow to issue public warnings, the federation of public interest research groups said.
Copyright 2018 The Associated Press. All rights reserved. This material may not be published, broadcast, rewritten or redistributed. We strive to uphold our values for every story published.