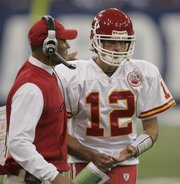 Kansas City, Mo. — Herm Edwards developed a reputation as a conservative coach in his five seasons with the New York Jets, eschewing the type of spread offenses that dotted the league for a more defensive-minded approach.
Build a strong defense, run an offense that takes few chances to cut down on mistakes, and pull out close victories was Edwards' mantra.
It worked to a certain extent, with the Jets making it to the playoffs three times in five years, but it also earned Edwards a reputation of being too cautious, that he would rather kick field goals than score touchdowns.
Edwards brought that method with him when he took over as Kansas City's coach nearly two years, and already people here don't like it. From the fans to the media to even the players, everyone wants to know why the Chiefs won't take more chances.
But Edwards is a man of strong convictions, someone who's going to do what he thinks is right no matter what anyone else might say. This offense isn't going to change anytime soon.
"We can take some chances down the field, but we can't take a lot of chances because of some things we're incapable of doing right now," Edwards said. "So that's how we're playing."
Much of the heat Edwards is taking comes from losing.
Kansas City has lost three straight games, including their last two at Arrowhead Stadium, once one of the most feared fields in the NFL. The Chiefs are just a game back in the AFC West at 4-6, but only because it's a weak division this year.
People in Kansas City were a bit spoiled with the wide-open offenses of Dick Vermeil, with Trent Green whipping passes to receivers spread all over the field and Priest Holmes bursting through holes for big gains.
But Edwards doesn't have the same personnel as Vermeil did.
Gone are perennial Pro Bowlers Will Shields and Willie Roaf, creating two huge holes on the offensive line. Green also has moved on, replaced by career backup Damon Huard and now Brodie Croyle, a third-round draft pick in 2006.
Holmes recently returned after missing two seasons due to a spinal injury, but he's trying to fit into an offense designed around the power running of Larry Johnson, who will miss his third straight game because of an injured foot.
Rather than trying to fit these more plodding square pegs into the sleeker round holes of before, Edwards has changed the template.
"We want to dwell on what this team did three or four years ago. Not the same offense, sorry," Edwards said. "We're limited in some things we can do right now, and so be it. That's what we're going to have do. We're going to have do things we feel we can do well."
The complaints about Edwards' offense, including some from the players, grew louder after Sunday's 13-10 loss to Indianapolis.
Croyle, more mobile and with a stronger arm than Huard, made his first career start, so there was an expectation that the Chiefs would open up the offense a little, take a few more chances down the field. Instead, Kansas City's passing game consisted of swing passes to receivers and quick hitters underneath.
Croyle was decent, finishing 19-of-27 for 169 yards with one touchdown, but his longest completion was just 19 yards.
Part of it was the Colts' Cover 2 defense, designed to take away the deep passes and force teams to go underneath. But it probably wouldn't have mattered what defense the Colts were playing; Edwards wasn't going to take any chances with his young quarterback.
"I've seen a lot of quarterbacks where you put them in positions where you know they can't be successful, now all of a sudden you've got a disaster," Edwards said. "We're not going to do that to this kid. We're not going to do that to this football team. We're trying to win games, and there's a way you've got to win."
Copyright 2018 The Associated Press. All rights reserved. This material may not be published, broadcast, rewritten or redistributed. We strive to uphold our values for every story published.