The Border War 2007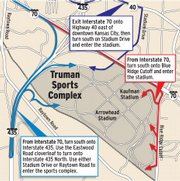 -->
So you've got your tickets.
Or you've got "a friend" who knows where you can get some.
Or you don't have any but want to get as close to Saturday's Armageddon at Arrowhead as you can.
First you have to decide when you'll get there. Then it's what to bring, how to get home and how much to plan to spend.
We're here to help.
Getting there
Getting to the game starts out easily - Interstate 70 east - then can get complicated. You can either get off on Highway 40 east of downtown, Interstate 435 south just before the stadium, or Blue Ridge Cutoff just past the stadium, said Josh Looney, a Kansas City Chiefs spokesman. All roads eventually lead to Arrowhead.
The Blue Ridge Cutoff tends to back up onto I-70, so avoiding that exit when possible will speed your entry to the parking lot.
Parking costs $22.
Tickets
If you don't have tickets to the KU-MU game, your best bet is probably to look for one of the many ticket scalpers that congregate outside Arrowhead Stadium. Though it's illegal to resell tickets for face value or above in Missouri, tickets have been selling for $100 or more over face value online at sites like StubHub and eBay.
After that, you need to decide whether you want to attend ESPN's taping of its "GameDay" program. "GameDay" will originate from Parking Lot C at Arrowhead, according to the Kansas Athletics Department. Lots will open - at no charge - at 7 a.m., and the first broadcast begins with SportsCenter at 8 a.m. "GameDay" itself airs from 9 a.m. to 11 a.m.
"This is not a tailgate party, but an opportunity to watch 'GameDay' live," the athletics department said on its Web site.
Nevertheless, expect a lot of partying to go on as people watch the show. After "GameDay" is over, everyone must leave the lots by 11:30 a.m. The lots reopen at 3 p.m. for the 7 p.m. game.
Those who don't want to pay $22 to park have a couple of options. Biggs BBQ is running a shuttle to the game that includes food. The Kansas City Area Transportation Authority also will run shuttles from four spots in the Kansas City area.
Buses, marked with "NCAA Shuttle," will leave from downtown Kansas City, the Marriott Hotel on Country Club Plaza, the Waldo neighborhood and Ameristar Casino. Exact routes and other stops are available at www.kcata.org.
Round-trip fare is $10 per person.
Inside the stadium
Once you're in Arrowhead, the atmosphere will be decidedly different from any game you've seen at Memorial Stadium and probably different from a Chiefs game.
At least from a concessions standpoint, "this is going to be one of the biggest days all year," said Joe Quinn, who oversees Arrowhead concessions. "Probably even bigger than a Chiefs game."
Prices are higher at Arrowhead. But perhaps most significantly different, beer will flow until kickoff of the third quarter inside Arrowhead. A 24-ounce draught costs $7.25, and a 24-ounce can sells for $8.50, Quinn said. Beer is not sold at Memorial Stadium.
Safety
All that alcohol has the atmosphere primed for rowdiness between Kansas and Missouri fans.
KU associate athletic director Jim Marchiony said the department has discussed security with the Chiefs.
"They are aware that this is not a typical Chiefs game crowd," Marchiony said. "There are not 79,000 fans rooting for one team. They understand that, and they have taken precautions."
Looney said the Chiefs are expecting a boisterous crowd.
"Obviously we'll have to replace more seats than usual," he said.
Sgt. Rick Sticken, who supervises stadium policing for the Kansas City, Mo., police department, said his officers are prepared with extra manpower, including officers from the Jackson County Sheriff's office and Missouri Highway Patrol, to handle any eventuality.
He said the officers would be particularly mindful of protecting the field and the goal posts. He said the NFL was concerned that if the goal posts come down at the end of a night game at Arrowhead, they may not be ready for the Chiefs' game Sunday.
And, "there's a lot of money in there," Sticken said. "We want everyone to have a great time, but we're prepared for anything that may happen. We want people to be lawful."
Sticken said officers would be armed with pepper spray and could use it if people climb on goal posts. Officers are also prepared to transport an extraordinary number of people, should they be arrested.
KU-MU game coverage all week
It's the Jayhawks and the Tigers. The final game of the regular season. No. 2 against No. 3.
Leading up to Saturday's 7 p.m. kickoff at Arrowhead Stadium in Kansas City, Mo., we'll give you the details you'll need to cheer on KU. So brush up on the words to "I'm a Jayhawk" and look for these stories:
¢ Thursday: If you stay. So you caught KU football fever too late this season to score tickets. You'll be in Lawrence. Where can you watch? And what should you know?
¢ Friday: Anatomy of a rivalry. Does the clash between KU-MU date back to the days of Quantrill and John Brown? Or is it a more recent phenomenon, fueled by the likes of Norm Stewart?
¢ Saturday: The man behind the sunglasses. Just who is KU's head coach, Mark Mangino?
Copyright 2018 The Lawrence Journal-World. All rights reserved. This material may not be published, broadcast, rewritten or redistributed. We strive to uphold our values for every story published.