Photo Gallery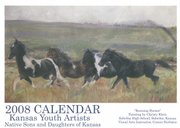 2008 Kansas Youth Artists calendar
On the street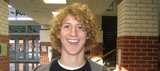 I do think Kansas is beautiful, especially this part of Kansas with all the hills. Western Kansas is pretty boring.
Katy Hoffman thinks Kansas' beauty is underrated - mainly because it doesn't jump right out and slap you in the face.
"Everybody thinks of Kansas as a flat, boring, grassy place," Hoffman says. "But there are a lot of hills in Kansas, and we have pretty sunsets - lots of things people do overlook."
Hoffman hopes to do her part to change that perception through a calendar published by Native Sons and Daughters of Kansas.
The calendar, new for 2008, features artwork of students who were enrolled in Kansas high schools in the 2006-2007 school year.
It includes contributions by two recent graduates from Lawrence - Hoffman and Gina Skinner - who both are freshmen at Kansas University.
Grant Glenn, a Topeka attorney who lives in Lawrence, helped organize the calendar with Topeka arts advocate Don Lambert. Glenn says they received about 200 entries in various media for last year's competition. Winners included photography, pastels and pencil drawings.
In addition to having their photos included in the calendar, the young artists receive small scholarships and have their photos exhibited in Topeka.
The ongoing theme is, "Kansas ... as beautiful as you think!" which plays off the state marketing slogan of "Kansas - As big as you think."
"We got a lot of different images," Glenn says. "There was a meadowlark and sunflower, which are pretty obvious. But then there was a sketch portrait of an elderly veteran. I don't think we've limited it at all."
One particularly interesting image is on the back of the calendar. Mindy Strecker, of Solomon High School, photographed an oat field over the course of a year and created a collage of photographs showing the various seasons in the field.
"That was an original kind of thought, to photograph it from the same position," Glenn says. "It shows that beauty is there literally in our backyards."
Both of the Lawrence contributions are photographs.
Hoffman, a 2007 graduate of Free State High School, took a photo of Potter Lake at KU.
"I just wanted to go on campus and take some photos," Hoffman says. "I took a few other ones by the lake. The lighting was perfect, and the image in the lake - the reflection - was great."
She later learned about the calendar and entered the photo. It's featured for the month of October.
Hoffman is planning to major in KU's new photography program. She's enjoyed taking photos much of her life.
"I really like landscape pictures," she says. "On the weekend, I always have a camera in my hands."
Skinner, who graduated from Lawrence High School in May, also took a landscape photo for her submission. It shows a gravel road near her family's rural Lawrence home, and the fact it was taken in November 2006 shows through the colors in the trees.
"That particular day, I was out with my little sister and her friend. They wanted me to take some pictures of them out where I live," Skinner says. "I usually just see something that catches my eye."
Skinner, who plans to major in interior design, says she hopes the calendar helps Kansans realize the beauty of their state.
"Where we live doesn't get as much notice or credit," Skinner says. "When people think of going on vacation, they don't think of coming here. They should take time to appreciate it. It's different, but still nice."
Glenn, who currently is helping to organize the contest that will become the 2009 calendar, says that's partially the goal of the contest and the calendar.
"I think it really does focus them on thinking that there is beauty here," Glenn says. "It's not all in the mountains or oceanside. Beauty can be found in anything from the Flint Hills to your own backyard."
About the calendar
The 2008 Kansas Youth Artists calendar produced by the Native Sons and Daughters of Kansas is currently available.
Calendars cost $7.99, plus $1.65 shipping fee, by writing Kansas Native Sons and Daughters, PO Box 67689, Topeka, 66667-0689. They also are available at the Lawrence Arts Center, 940 N.H.
Native Sons and Daughters also is accepting entries for its 2009 calendar competition. For more information on that, visit www.ksnativesonsanddaughters.org.
Copyright 2018 The Lawrence Journal-World. All rights reserved. This material may not be published, broadcast, rewritten or redistributed. We strive to uphold our values for every story published.