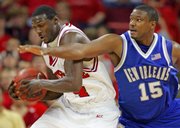 Raleigh, N.C. — T.J. Worley banked in a 3-pointer with 1.7 seconds left, and New Orleans became the latest mid-major to spring an upset by beating No. 21 North Carolina State, 65-63, on Sunday night.
In a wild finish that had three lead changes in the final 15 seconds, New Orleans erased a late seven-point deficit by scoring eight straight points in the final 1:48, taking a 62-61 lead with 14.9 seconds left on two free throws by Bo McCalebb.
Gavin Grant hit a layup over Jaroslav Tyrna to put N.C. State (1-1) up 63-62 with 8.3 seconds left, and the Privateers (2-0) frantically inbounded it to McCalebb, who lost control of the ball. Worley picked it up and heaved a 3-pointer over three defenders from about 25 feet that kissed off the glass.
Worley then broke up Brandon Costner's desperation pass to freshman J.J. Hickson as time expired.
No. 1 North Carolina 107, Iona 72
Chapel Hill, N.C. - Tyler Hansbrough had 27 points while Danny Green scored 15 to lead North Carolina in its home opener. Wayne Ellington added 14 for the Tar Heels (2-0), who never trailed and quickly turned the game into a display of the all-around attack that has made them an early favorite to win the national championship. Five players scored in double figures as North Carolina shot 51 percent in its first game of the Las Vegas Invitational.
No. 6 Louisville 84, Jackson St. 53
Louisville, Ky. - Earl Clark had 20 points, 14 rebounds and seven assists to lead Louisville over Jackson State. Andre McGee matched his career-high with 18 points and Derrick Caracter had 11 points and eight rebounds as Louisville (2-0) had little trouble with the Tigers (0-4).
No. 8 Indiana 100, Longwood 49
Bloomington, Ind. - Eric Gordon followed his record-breaking debut with 21 points, Jordan Crawford added 16 and Indiana beat Longwood in the opening round of the Chicago Invitational Challenge.
No. 18 Arkansas 70, Virginia Commonwealth 60
San Juan, Puerto Rico - Sonny Weems scored 16 points, and Patrick Beverley added 13 to lead Arkansas over Virginia Commonwealth in a consolation game at the Puerto Rico Tip-Off.
No. 24 Villanova 70, Bucknell 64
Villanova, Pa. - Shane Clark scored 17 points and grabbed 12 rebounds, Scottie Reynolds added 15 points and Villanova held off Bucknell. Reggie Redding had a career-high 12 points for Villanova (2-0), which had a 43-26 rebound edge.
Copyright 2018 The Lawrence Journal-World. All rights reserved. This material may not be published, broadcast, rewritten or redistributed. We strive to uphold our values for every story published.