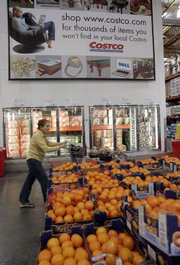 Clewiston, Fla. — The mechanical clipper rumbles close, lowers its steel pincers, takes aim. A slight squeak. A sharp crack.
Another orange tree, infected by the spit of a gnat-size insect and condemned by a scarlet letter X, is "pushed." Death came in six seconds.
On this day alone, in this single grove, 300 trees will be clipped and burned. It's like this every day now for the citrus industry, under attack by a new threat called greening.
"A sad deal," said Jim Snively, a fourth-generation grower.
One of Florida's original industries - "Come to the Florida Sunshine Tree," as Anita Bryant sang in commercials in the 1970s - is shrinking, battling and evolving as it confronts disease and development, globalization and dehydration, periodic freezes and serial hurricanes.
What citrus is not doing is dying. It remains a $9 billion industry, still one of the most lucrative crops grown in a state largely propelled into existence by oranges and grapefruit.
Yet as another harvest begins, it also can't be said to be carefree and thriving.
"It is a huge struggle, but this is something that citrus growers over the generations have wrestled with and they've always come out on top," said Mike Sparks, chief executive of the Florida Citrus Mutual, an industry group that still represents 8,000 growers.
State vs. countries
The state remains the world's third leading producer of citrus - behind only Brazil and China - but the industry's survival requires persistence, creativity, cooperation, and pure luck.
"I am not sure which is the worse gambling problem - citrus or going to Vegas," said Steve Rogers, whose family has been growing citrus in the Lakeland area for generations.
Yes, the industry has shriveled and is producing less fruit, but the hardiest growers are making more money as the law of supply and demand kicks in. At the same time, fewer oranges also means higher prices for consumers - a gallon of juice cost about $3.80 in 1997, about $5.70 now.
Yes, the industry has learned to live with a notorious canker bacteria, but now, largely unnoticed by the public, it's more imperiled by greening, a disease caused by a different bacterium that is injected into the plant through the bite of the tiny psyllid.
Unlike canker, greening actually kills citrus trees.
Southern Gardens Citrus, a subsidiary of U.S. Sugar and one of the state's largest growers, has lost 100,000 of its 2.3 million trees - more than 4 percent - to greening in the past two years.
'Black plague of citrus'
"Greening has been a scourge every place that it's been," said Tom Spreen, professor and chairman of the University of Florida's Food and Resource Economics Department. "It literally is the black plague of citrus."
And it is just one of many stubborn challenges for an industry that remains of crucial importance to Florida, even after all of these years.
"Florida orange juice isn't going away, and neither are we," said Ricke Kress, Southern Gardens' president.
But drive along Florida's Turnpike from Hollywood to beyond Orlando - a route colored by groves as recently as 10 years ago - and there's hardly an orange or grapefruit tree in sight.
Commercial acreage is down from 941,000 in 1970 to 832,000 in 2001 to 621,000 now, citrus morphing into condos in Davie and Bradenton, Vero Beach and Port St. Lucie, Lakeland and Clermont.
But 621,000 acres, the equivalent of 970 square miles, is not insignificant. And, from the growers' perspective, fewer trees do not necessarily mean financial ruin.
In the world of commodities, less supply nearly always means higher prices, so although acreage plummeted 22 percent between 2004 and 2005, the value of Florida's scarcer citrus crop increased 14 percent to $1.02 billion. Last year, sales rose to $1.36 billion.
'Risky business'
So, facing multiple diseases, labor shortages, freezes, hurricanes and competition from Brazil and other countries - why not just sell the land and move on, especially with developers waving attractive offers?
Growers talk about the remaining profit potential, but they also talk about family and tradition, the joy and potential profit of producing something colorful, tasty and healthy.
"Anyone who loves their job and is good at their job will tell you that money is not the only thing that drives them," said Rogers, the Lakeland-area grower. "We just love the citrus business. We just love to see the greenery.
"Whereas someone might see it as a very risky business - it is a very risky business - it is our comfort zone. To produce a product that is going to be eaten by thousands or millions of people around the world, we just love that aspect of it."
Copyright 2017 The Lawrence Journal-World. All rights reserved. This material may not be published, broadcast, rewritten or redistributed. We strive to uphold our values for every story published.