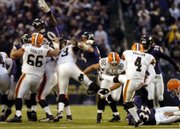 Baltimore — It was a comeback victory in every sense of the word.
The Cleveland Browns literally had to come back onto the field to complete a 33-30 overtime victory over the Baltimore Ravens on Sunday after it appeared the game ended with a missed field goal by Phil Dawson.
The Browns trailed 30-27 on the final play of regulation when Dawson attempted a tying 51-yard kick. The ball hit the left upright and seemingly bounced off the crossbar before bounding into the end zone.
The officials called the kick no good. The Ravens ran off the field, celebrating a victory in which they scored 16 straight points in the fourth quarter, the last three on a 47-yard field goal by Matt Stover with 26 seconds left.
Many of the Browns walked off in stunned silence after Dawson's kick. Several Cleveland players, however, insisted Dawson's kick hit the curved center support behind the crossbar. They gathered in the end zone, pointing at the spot where the football struck before bouncing back.
They were right. After a lengthy discussion, the officials ruled the kick passed through the uprights and called the teams back onto the field.
NFL rules dictate that a field goal is not reviewable by replay.
Referring to the initial call, referee Pete Morelli said, "It was a ruling by one of the officials. The other official informed me that the ball hit the back of the extension of the goal post. ... We determined that was what it struck. Therefore, it made the field goal good."
From half a football field away, Dawson wasn't positive his kick made it through.
"I couldn't tell for sure. I could tell by the way it glanced off the upright, it looked like it went forward," he said. "But we had people down near the goal post who were screaming at the top of their lungs that it had hit whatever that bar you call it."
Baltimore coach Brian Billick and half the team were in the locker room when a team official told him the game wasn't over. Linebacker Ray Lewis, who returned an interception for a touchdown earlier, was peeling tape off his ankles when told he might have to return.
"It's over. We won," he said.
But it wasn't, and now the Ravens' slim playoff hopes appear done. Baltimore (4-6) has lost four straight, none more painful than this one.
"It's crazy, it's weird," Ravens receiver Derrick Mason said. "Just when you thought everything that had gone wrong you had overcome it, then there's another thing. They probably made the right call."
The Browns (6-4) took the kickoff in overtime and drove 43 yards in nine plays before Dawson kicked a 33-yard field goal with 9:10 left.
"This team, for whatever reason, thrives on adversity. The tougher the situation, the better we do," Dawson said. "We all had a feeling when we got the call and went into overtime, what a shame it would have been to not capitalize on it."
Eagles 17, Dolphins 7
Philadelphia - Backup quarterback A.J. Feeley led a pair of second-half scoring drives in place of injured Donovan McNabb, and Brian Westbrook had a career-best 148 yards rushing, dropping the Dolphins to 0-10.
No NFL team has finished 0-16. Tampa Bay went 0-14 in 1976.
McNabb left due to a sprained right ankle in the second quarter, nearly a full year after his season ended with a torn knee ligament. X-rays were negative, but McNabb spent the second half watching from the sideline.
The Eagles (5-5) improved to .500 for the first time this season by winning consecutive games for the first time.
John Beck made his NFL debut for Miami, throwing for 109 yards.
Packers 31, Panthers 17
Green Bay, Wis. - Brett Favre won the senior bowl, throwing three touchdowns in the duel with fellow passing patriarch Vinny Testaverde. It was Favre's 62nd career game with at least three touchdown passes, tying yet another of Dan Marino's records.
The 44-year-old Testaverde and 38-year-old Favre formed the oldest starting quarterbacks duo in NFL history. But Favre is playing like he's in his prime these days, completing 22-of-30 passes for 218 yards.
Giants 16, Lions 10
Detroit - Michael Strahan had a season-high three sacks, while James Butler and Sam Madison both made victory-sealing interceptions.
Eli Manning threw a touchdown pass to Brandon Jacobs, who later left the game due to a hamstring injury, and Lawrence Tynes kicked three field goals.
Detroit (6-4) finally put together a strong drive, ending with Calvin Johnson's 35-yard TD catch to pull within six with 4:34 left.
New York (7-3) broke a third-place tie with Detroit in the conference and improved its chances of making the playoffs. In the Super Bowl era, 78.4 percent of teams that won seven of their first 10 games ended up in the postseason.
Texans 23, Saints 10
Houston - Andre Johnson was back, Mario Williams was solid, and Reggie Bush was an afterthought.
Johnson had 120 yards receiving and a touchdown, and Williams harassed Drew Brees all day. The Texans (5-5) scored 17 points before halftime and stayed on top with tough defense in the second half against the Saints (4-6), who had five turnovers.
Johnson missed the last seven games because of a knee sprain, but was back to form on Sunday. He got in front of Jason David for a 73-yard touchdown pass early in the first quarter.
Buccaneers 31, Falcons 7
Atlanta - Jeff Garcia threw for two touchdowns, Ronde Barber returned a fumble for another score, and the Buccaneers' defense completely stifled the Byron Leftwich-led Falcons.
Atlanta (3-7) had won two straight with Joey Harrington at quarterback and actually had a chance to pull within one game of first place in a division where Tampa Bay (6-4) is the only team with a winning record.
In a highly debatable move, first-year Falcons coach Bobby Petrino started Leftwich over Harrington, saying he was still the No. 1 quarterback after missing the last two games recovering from ankle surgery.
Jaguars 24, Chargers 17
Jacksonville, Fla. - Playing for the first time in nearly a month, David Garrard threw two touchdown passes.
Jacksonville (7-3) scored on its first three possessions, and the Chargers (5-5) self-destructed on nearly every drive.
San Diego ended three consecutive fourth-quarter possessions in questionable fashion before making a game of it late. Philip Rivers connected with All-Pro tight end Antonio Gates for a 24-yard touchdown that made it 24-17 with 5:06 to play.
LaDainian Tomlinson needed 91 yards rushing to becoming the 22nd player in NFL history with 10,000, but finished with 62 yards and a touchdown. The league's reigning MVP also caught five passes for 93 yards.
Cardinals 35, Bengals 27
Cincinnati - Antrel Rolle did a cartwheel and a backflip after his second interception return for a touchdown. He still had one more play and one more celebration left.
He returned interceptions 55 and 54 yards for touchdowns. Rolle finished it off with his third interception in the closing minutes. He ran Carson Palmer's career-high fourth interception back 71 yards, but the apparent touchdown was nullified by a blocking penalty on the return.
Rolle did a chest dive in the end zone anyway to finish off his career day against Cincinnati (3-7).
Vikings 29, Raiders 22
Minneapolis - Chester Taylor had 202 total yards and three touchdowns in place of injured rookie star Adrian Peterson. Peterson was out because of a minor knee injury, so Taylor did his best impression. He rushed 22 times for 164 yards, and Minnesota (4-6) pressured Daunte Culpepper into a costly turnover and four sacks.
Culpepper completed 23 of 39 passes for 344 yards, one touchdown and one interception. His last-second heave into the end zone was batted down by Minnesota.
Cowboys 28, Redskins 23
Irving, Texas - As disjointed as the Dallas Cowboys were, they still found a way to beat Washington. Their secret? Throw it to Terrell Owens.
Owens caught touchdown passes of 4, 31, 46 and 52 yards, marking the first four-TD game of his career, to get the Cowboys to 9-1 for the first time since 1983. They've won four straight since losing to New England, this being the third in a row against division foes.
Owens' last three scores came in a span of 11 plays and were his only catches of the second half. He finished with eight grabs for 173 yards, his fourth straight 100-yard game.
Jets 19, Steelers 16, OT
East Rutherford, N.J. - The Jets left the field winners for the first time in almost two months. With thousands of Pittsburgh fans in Giants Stadium waving their yellow Steelers towels, Mike Nugent kicked a 38-yard field goal 5:03 into overtime.
The kick broke a six-game losing streak for the Jets (2-8), who stormed the field after the victory and celebrated in a huge circle around Nugent.
Thomas Jones had 117 yards on 30 carries, becoming the first running back in 35 games to reach 100 yards against the top-ranked Steelers defense. Leon Washington set up the win by returning a punt 26 yards to the Steelers 26.
Seahawks 30, Bears 23
Seattle - Seattle's Matt Hasselbeck passed for 337 yards and two touchdowns, and the Seahawks took advantage of Rex Grossman's late fumble.
Grossman, reinstated as the starting quarterback after six games watching Brian Griese run the offense, was 24-for-37 for 266 yards, his most since he threw for 282 last January in a win against Seattle in the playoffs.
Rams 13, 49ers 9
San Francisco - Marc Bulger shook off another beating to pass for 155 yards and an early touchdown to Torry Holt, and the St. Louis defense was solid until the final seconds.
Bulger was sacked six times by the 49ers, who also sacked him six times in the clubs' first meeting. The Rams (2-8) couldn't score a touchdown after their opening drive and managed just 38 yards of offense in the second half, but the defense had little trouble with San Francisco's league-worst offense until two desperate fourth-quarter drives.
The 49ers (2-8) lost their eighth straight.
Patriots 56, Bills 10
Orchard Park, N.Y. - Scoring touchdowns on their first seven offensive possessions and getting the eighth on a turnover, the New England Patriots won their 10th straight game. Tom Brady and Randy Moss, themselves ready to rewrite the NFL record books, led the romp.
Brady was 31-of-39 for 373 yards with five TD passes, four to Moss, as New England became the 10th team since 1970 to start a season 10-0. Barring injury, the Patriots are an excellent bet to become the NFL's first perfect team since the 1972 Miami Dolphins.
It was the ninth time in 10 games New England won by more than 17 points and the ninth time it scored more than 34 points. The Patriots did it coming off a bye week after their only close game of the season, a 24-20 win in Indianapolis.
Copyright 2018 The Associated Press. All rights reserved. This material may not be published, broadcast, rewritten or redistributed. We strive to uphold our values for every story published.