Photo Gallery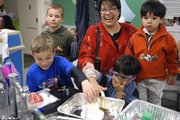 Science City
Nicolas Flamel may have been dear friends with Albus Dumbledore, the venerable headmaster from J.K. Rowling's Harry Potter series, but he also made a name for himself in the Muggle world as a noted alchemist.
The truth about Flamel, a 14th century scientist, was on display Sunday at Kansas University's Natural History Museum. Or perhaps it should be called the Natural History Museum's School of Witchcraft and Wizardry.
On Sunday, KU's campus became like Science City as the chemistry and museum studies departments put on separate events that showed how science, no matter how far-fetched, has a basis in the real world.
KU's 12th annual Carnival of Chemistry drew several hundred children and their families to Mallot Hall, where children could make their own slime and learn about staples of science like gamma rays and liquid nitrogen in a fun and engaging way.
Science can be a tough sell to kids as they get older, said graduate student Kevin Godber, so the fair was a way to catch their attention at an early age.
"The objective is to get kids excited about science and chemistry," he said. "When they see the science in front of them, it becomes apparent."
Godber was staffing a room where children could make their own gooey slime. The process involved adding a single polymer chain to a cross-linking agent to create a cross-linked polymer. In layman's terms, kids added a chemical to a cup of glue and created homemade slime.
"If you can show the little kids that there are some good parts to chemistry, maybe you can turn some people on to chemistry," said Phil Livanec, a fourth-year graduate student. He was playing with a substance called oobleck, a cornstarch-based material that is liquid until it is touched; then it turns into a mushy solid. The substance's name refers to a Dr. Seuss book called "Bartholomew and the Oobleck."
And when science involves Sorting Hats and the wonders of wizardry, it's bound to attract attention.
Students from KU's Museum Studies Public Education course thought a Harry Potter-themed exhibit would elicit interest from people of all ages as it planned its annual public event, which is designed to teach the public about science, history and art.
Jen Humphrey, communications director for the KU Natural History Museum, estimated about 400 people passed through its event, which taught the real-life lessons behind Harry Potter's magic, including divination, potions and herbology. It even included an exhibit on the care of magical creatures, where people learned about animals that have been associated with magic in the past, such as manatees and platypuses.
"One of the byproducts (of the class) is to develop and evolve a public event that interprets art, history and science. We happen to have a lot of Harry Potter fans in the class," said Teresa MacDonald, director for education at the museum. "One of the great things about Harry Potter is it's really accessible" and people of all ages are interested in the stories, she said.
Much like first-year students at Hogwart's, children put on a brown sorting hat and were placed in the different houses of Rowling's books as they entered the museum.
Five-year-old Arlo Kinsey was placed in Gryffindor, just like his favorite character, Ron Weasley. Clad in a black robe, Arlo said he liked everything he learned about in the potions and divination exhibits, where KU students taught children about chemical reactions and the history of fortune telling.
Copyright 2018 The Lawrence Journal-World. All rights reserved. This material may not be published, broadcast, rewritten or redistributed. We strive to uphold our values for every story published.