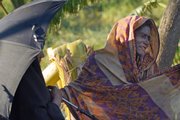 Barguna, Bangladesh — The death toll from Bangladesh's most devastating storm in a decade climbed to at least 2,400 today and relief officials warned the figure could jump sharply as rescuers reach more isolated areas.
Teams from international aid organizations worked with army troops in a massive rescue effort that drew help from around the world. Rescue workers cleared roads of fallen trees and twisted roofs to reach remote villages, but tents, rice, water and other relief items were slow to arrive. Hungry survivors, thousands of whom were left homeless, scrambled for food.
The death toll rose as officials made contact with coastal regions cut off by the storm, said Selina Shahid of the Ministry of Food and Disaster Management.
District officials compile the figures, which are far from precise, based on reports from police, public hospitals, military officials, relief workers and aid agencies, said Mohammad Golam Mostafa of the Disaster Management Ministry.
The Bangladesh Red Crescent Society, the Islamic equivalent of the Red Cross, said that it believed the toll could hit 10,000 once rescuers reach islands off the coast of the low-lying river delta nation.
Mohammad Abdur Rob, chairman of the society, said the estimate came from the assessments of thousands of volunteers taking part in the rescue operations across the battered region.
"We have seen more bodies floating in the sea," Zakir Hossain, a fisherman from the country's southwest said, after reaching shore with two decomposing bodies he and other fishermen had found.
Squatting in a muddy field with his wife, 45-year-old farmer Asad Ali said their their 5-year-old daughter, the couple's only child, had been fatally crushed beneath their toppled thatched hut in Barguna, one of the hardest-hit districts.
He said a helicopter had dropped packages of food but he had received little assistance. Mobs swarm below the helicopters every time one is spotted.
"I've been here waiting for hours for something to eat," he said. "What I've got so far are a few cookies. Not enough."
Government officials defended the relief efforts and expressed confidence that authorities are up to the task.
"We have enough food and water," said Shahidul Islam, the top official in Bagerhat, a battered district close to Barguna. "We are going to overcome the problem."
Thanks to an effective early warning system, at least 1.5 million coastal villagers fled to shelters before the storm hit Thursday.
Sidr's 150-mph winds smashed tens of thousands of homes in southwestern Bangladesh and ruined thousands of acres of crops.
Every year, storms batter Bangladesh, a country of 150 million, often killing large numbers of people. The most deadly recent storm was a tornado that leveled 80 villages in northern Bangladesh in 1996, killing 621 people.
Copyright 2018 The Associated Press. All rights reserved. This material may not be published, broadcast, rewritten or redistributed. We strive to uphold our values for every story published.