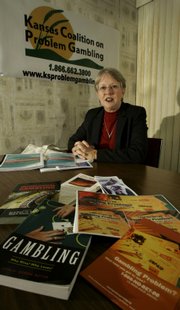 Self-exclusion lists
GAMBLING: Kansas is on the verge of having four commercial casinos, joining 11 other states with such operations, plus slot machines at two horse and dog tracks. Casinos will open in two or three years and slots at tracks could start next year.
CONCERNS: Casinos could be a lure for problem gamblers and some of them could be those who have no control over their gambling addition.
REMEDY: The Kansas Racing and Gaming Commission will have a self-exclusion list where problem gamblers can bar themselves from casinos and tracks. A person signs up for at least two years and can be removed only after undergoing counseling.
Warning signs of A possible problem
¢ Withdrawal from family and friends.
¢ Missing personal or household items.
¢ Hiding gambling losses from family members.
¢ Secrecy or deception when asked about gambling or finances.
¢ Late notices or telephone calls from creditors.
¢ Liquidation of assets.
¢ Failed attempts to cut back or stop gambling.
¢ Intense interest in gambling related matters.
Source: Kansas Coalition on Problem Gambling.
Topeka — Long before the first card is dealt, Kansas regulators have come up with a way for problem gamblers to keep away from temptation.
With a law allowing state-owned casinos and slot machines at racetracks taking effect this year, the Kansas Racing and Gaming Commission decided to create a self-exclusion list. A person can voluntarily sign it to be banned from Kansas casinos and tracks with slot machines for at least two years.
Once they're open, the casinos and tracks will have a copy of the list, and if a person on it entered a facility, he could be charged with trespassing - something spelled out to the person before he signs up.
"We want to make sure that the people of Kansas have the tools to protect themselves should they determine that they are struggling with a gambling addiction," said Stephen Martino, the commission's executive director.
Of the 11 other states with commercial casinos, seven have self-exclusion lists for problem gamblers. As Kansas becomes the eighth, it has what regulators say is a unique plan, because people can get their names removed only if they complete a problem gambling program with a certified counselor.
Some experts question whether a self-exclusion list can work for more serious pathological gamblers, those who no longer can control their urges to gamble, even when they keep losing.
"The paradox is you are relying on a person's ability to self-diagnose. They have to acknowledge they have a problem, but part of the problem of pathological gambling is not acknowledging you have a problem," said Dr. H. Westley Clark, director of the federal Center for Substance Abuse Treatment.
Even so, the commission is completing the regulations for the list. It's also creating an Office of Responsible Gaming to oversee the list and make sure casinos do their part to help problem gamblers.
Moving forward
As the commission moves forward, the fate of casino gambling and slot machines at racetracks is in the hands of the courts. If the law eventually is upheld, it will be two or three years before casinos open, but tracks could have slots next year. The state already has four tribal casinos on American Indian reservations in northeast Kansas and there are casinos nearby in Oklahoma and Missouri.
"We have to move forward with the thought that this is going to happen. Otherwise, we fall behind," said commission spokesman Mike Deines. "If we are going to have people playing slots, it's important to have this program in place and ready to go before that."
Missouri and Michigan have self-exclusion lists with lifetime bans. The other states allow people eventually to get their names removed from the list, although a lifetime ban is an option in two of those states.
Kevin Mullally, former Missouri Gaming Commission director, is a consultant with Kansas regulators and helped draft the ban. In 1996, he helped design the nation's first self-exclusion program in Missouri.
"The unique part is that lots of states allow people to get off the list after a period of time. With this one, you have to go through re-entry. It's really a way for us to know that if they get off the list, they will have been educated," Mullally said.
Mullally said current wisdom is that a lifetime ban might dissuade some from signing up.
"More recent research shows that one size doesn't fit all," he said. "This is not a magic pill. Ultimately for the problem gambler to recover, they have to gain control over their urges and this is simply a tool to do that."
Jury is still out
Jean Holthaus, Kansas Coalition on Problem Gambling president, said nationally about 5 percent of problem gamblers seek treatment, compared with 26 percent for those with substance abuse problems.
She said most pathological gamblers can't go back and gamble socially after a two-year ban.
"A lifetime ban might be too overwhelming for somebody in recovery to think about. However, I personally feel that I would be misleading a pathological gambler by not talking to them about it being a lifetime disease and they won't be able to be a social gambler," she said.
Christine Reilly is executive director of the Institute on Pathological Gambling and Related Disorders, which is affiliated with Harvard Medical School. She said the jury is still out on whether self-exclusion lists work.
"On the face of it, it sounds like a good idea, but we don't know. If this was diabetes, we wouldn't be so cavalier," she said.
But if there's going to be such a list, then what Kansas is doing is the better way.
"If you tell somebody who has a problem that they never can do it again, that might just chase them off," she said. "We think it's bad policy to make it lifetime and if you're going to do it, then do it so it's time-limited."
Questions to ask about gambling
¢ Did you ever lose time from work or school due to gambling?
¢ Has gambling ever made your home life unhappy?
¢ Have you ever felt remorse after gambling?
¢ Did you ever gamble to get money with which to pay debts or otherwise solve financial difficulties?
¢ Did gambling cause a decrease in your ambition or efficiency?
¢ After losing, did you feel you must return as soon as possible and win back your losses?
¢ Did you often gamble until your last dollar was gone?
¢ Did you ever borrow to finance your gambling?
¢ Have you ever sold anything to finance gambling?
¢ Were you reluctant to use "gambling money" for normal expenditures?
¢ Did gambling make you careless of the welfare of yourself or your family?
¢ Did you ever gamble longer than you planned?
¢ Have you ever gambled to escape worry or trouble?
¢ Have you ever committed, or considered committing, an illegal act to finance gambling?
¢ Have you ever considered suicide as a result of your gambling?
Copyright 2018 The Associated Press. All rights reserved. This material may not be published, broadcast, rewritten or redistributed. We strive to uphold our values for every story published.