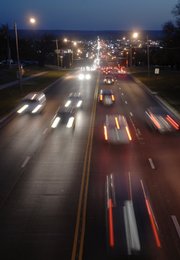 On the street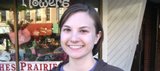 I would say so. I'm going home first and then riding with my parents to my grandma's house, because it would be too expensive to drive my car.
-->
Gasoline-saving tips
¢ Keep tires inflated.
¢ Watch for performance indicators, such as check engine light, which can affect fuel economy.
¢ Maintain vehicle exterior. Loose parts can create drag, which slows down the vehicle and uses more gasoline.
¢ Avoid carrying unnecessary heavy loads that can weigh down vehicles.
¢ Limit the amount of time to warm-up vehicle.
¢ Use a windshield wrap at night to keep frost off the windshield.
¢ Use the defroster only as much as you need it.
¢ Don't use premium fuel unless necessary.
¢ Minimize rapid acceleration and sudden braking while driving.
¢ Combine and limit trips.
¢ Carpool and use mass transit when convenient.
Source: AAA
Drivers have decided to go the speed limit, switched from cars to motorcycles, and even written a letter to the governor - all in the name of combating higher gasoline prices.
But they say the ever-climbing numbers at the pump won't make too much of a dent on where they go during the holidays.
"It's not going to affect my travel plans," said Tristan Telander, who keeps a stack of her receipts to track how much she spends on gasoline and tries to ride her bike or walk to class whenever she can.
Traveling more
That jibes with what Jim Hanni, AAA Kansas spokesperson, expects to see this holiday season. Surveys show that Americans across the country will travel 1.5 percent more during the Thanksgiving season than they did last year.
Drivers continue to stick to the road even though gasoline prices hover around $3 a gallon in the Lawrence area - and even higher in other parts of the country. Last year during Thanksgiving, gasoline prices were $2.20 a gallon.
"This year's travelers are really feeling the pinch. But Thanksgiving is traditionally a time for family gatherings, and higher gas prices will not discourage Americans from connecting with their loved ones," Hanni said.
To make up for the higher prices, Hanni said travelers will get the treat of the cost of hotels and rental cars staying around the same price or even a little lower than last year.
In the airline industry, local travel agents said most travelers purchased tickets for the holidays before the uptick in fuel prices.
John Novotny of Travellers Inc., 831 Mass., said Kansas City is blessed with a competitive airline market, which tends to keep prices down even if costs go up.
He still encourages those who haven't booked tickets to do so soon.
"There are still good values out there. You have to look a little harder for them," Novotny said.
Doing without
As for how gasoline prices affect the rest of the holiday, Robert Baker - a consumer credit counselor - said the last time prices went higher than $3 a gallon, many people who couldn't afford the price of gasoline just put it on their credit cards. Or they waited a little longer to pay their utility bills and accepted the late fees.
He also thinks people forgo life and health insurance, maintenance on their vehicle or even haircuts.
"I would imagine it would happen again because now we just don't have the gas, we have the food. Food this year has gone up 15 to 20 percent. Those are two essential costs for people," Baker said.
Baker, who is with Housing and Credit Counseling, also said clients told him they were spending less during the holidays.
Even though the price of crude oil has dropped somewhat recently, Hanni said he wouldn't be surprised to see prices go up in coming months.
He predicted gasoline prices at $3.33 per gallon within the next month or so - soaring as high as $4 a gallon this spring, which is traditionally the time for the highest gasoline prices of the season. Last May, prices in Lawrence peaked at $3.33.
Changing habits
Friday morning during prime rush hour, commuters going in and out of the Kwik Shop at 23rd and Harper streets said they didn't plan to change their holiday schedules because of gas prices.
But their daily lives already were altered.
Jason Barnhill was heading from Lawrence to Overland Park and stopped to fill up his 2001 Ford Taurus along the way. He tries to ride his motorcycle when it's not too cold. He has even considered a ride on the K-10 express bus from Kansas University to Johnson County for his commutes.
Others said they were passing the cost on to their customers and going out to fewer restaurants.
Francois Henriquez, who stopped for gasoline on his way to Lenexa, said he noticed if he drove the speed limit, he got at least three miles per gallons more. So he is going 70, not 80 miles per hour, on his way to work.
Ajay Monohar, who was filling up his BMW, said he is looking for more ways to work from home. The higher prices have cost him about $20 more every time he fills the tank.
"Over time, it adds up," he said.
Michele Anderson doesn't want to think about how much she is spending on gasoline for her daily 96-mile round-trip commute. She has considered trading in her Honda CR-V for a Toyota Prius Hybrid.
After spending $40 the day before, Larry Thompson of Lawrence was looking at handing over another $40 to fill up his Chevy truck. He sells construction equipment and uses about a half-tank each day.
He has written to Gov. Kathleen Sebelius, pleading for lower gas prices, but is fairly resigned.
"We are going to have to live with it," he said.
tips for a greener holiday season
¢ Carpool to the mall.
¢ Shop at stores you can walk to.
¢ Shop online. It saves you on gasoline, and in some cases shipping is free with larger orders.
¢ Give the gift of time instead of driving all over town for the right present.
¢ Give gift cards or flowers, which are easy to order and usually don't require an extra car trip.
¢ Have a holiday potluck dinner: Cooking less will save on your energy bill.
¢ Have a cookie exchange party, which also cuts down on your cooking and energy bill.
Source: Robert Baker, a certified consumer credit counselor with Housing and Credit Counseling Inc.
Copyright 2018 The Lawrence Journal-World. All rights reserved. This material may not be published, broadcast, rewritten or redistributed. We strive to uphold our values for every story published.