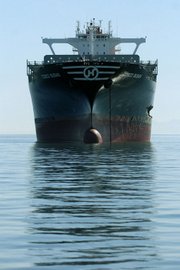 Oakland, Calif. — Something didn't seem right to ship pilot John Cota when he inspected the bridge of the freighter Cosco Busan at dawn.
The ship gleamed with state-of-the-art electronic charting equipment and two radar displays that penetrated fog and darkness, but these vital instruments seemed out of whack, he told investigators. According to Cota, he grumbled to the ship's captain, but the captain's replies reassured him enough that Cota guided the vessel out of its berth at the port of Oakland.
But as the 901-foot ship slipped into a bank of fog, the radar conked out, and the confusion over the electronic charts resurfaced at a critical moment, according to Cota's account. Catastrophe struck moments later.
The instruments are emerging as focal points as the National Transportation Safety Board examines what caused the ship to sideswipe the San Francisco-Oakland Bay Bridge last week, opening a gouge in its hull and dumping 58,000 gallons of sludge-like bunker fuel into San Francisco Bay.
Earlier this week, the Coast Guard ruled out mechanical failure, pointing strongly to human error, including communication problems and "bridge-management issues" among a crew that was new to the ship.
But the NTSB, which took over the safety aspect of the accident, re-interviewed witnesses and participants under oath and is studying the possibility of equipment problems, board member Debbie Hersman said.
One of the board's first tasks was to re-interview Cota, among the most experienced of the seamen who guide ships through the bay. After lengthy sessions with Coast Guard investigators, he was questioned again for about three hours this week by the NTSB.
The NTSB emphasized that Cota's account represents just one side of the story, and it is trying to verify his version of events with other witnesses, records and other evidence.
Copyright 2018 The Associated Press. All rights reserved. This material may not be published, broadcast, rewritten or redistributed. We strive to uphold our values for every story published.