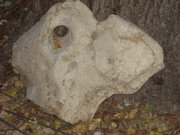 It's amazing what an undefeated football team can do for the mood of fans who've waited years to see it.
This week, if Jayhawk fans in Lawrence need a reminder about the team's record, all they have to do is drive by a home in the 1300 block of Kentucky Street, where a group of students has designed "10-0" in Christmas lights.
"Everybody is still in kind of a dream right now," said Brett Buchanan, a Kansas University senior who lives at the house. "I can't remember the last time we've had a dominant football team."
The Wichita Southeast High School graduate and his five roommates put the lights up Sunday. Buchanan is a third-generation Jayhawk who is ecstatic to see the third-ranked football team still in the national championship picture.
When things are going this well, KU fans are happy to see the Jayhawk in just about anything - including a rock unearthed from someone's yard.
In the unincorporated Miami County community of Hillsdale, about 45 miles southeast of Lawrence, workers and customers at a restaurant have a special ritual involving a rock shaped like the Jayhawk's head.
Greg Beverlin owns the Hillsdale Bank Bar-B-Q there, and the rock for the last eight years has had a place in his restaurant's lobby. A friend - a Kansas State University fan - gave it to Beverlin, a lifelong Jayhawk supporter. It's coming in handy so far this season.
"All of the employees rub it, and now they're undefeated," Beverlin said.
Copyright 2018 The Lawrence Journal-World. All rights reserved. This material may not be published, broadcast, rewritten or redistributed. We strive to uphold our values for every story published.