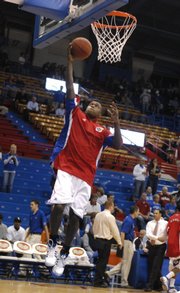 -->
Sherron Collins' basketball teammates filed into his Jayhawker Towers apartment one by one Monday night, several hours after Kansas University's sophomore guard had surgery on his left foot.
"It was sad to see him sitting there after the surgery. He was kind of down. The first day is the worst, especially getting out of surgery," KU senior guard Rodrick Stewart said. "You say, 'Man, I just had surgery.' Everybody came down to his room to give him support. That's all he needs is support."
Stewart - who watched some TV with Collins on Monday night - said the 5-foot-11 Chicagoan was in much better spirits Tuesday as he began his six-week recovery from a stress fracture.
"He's doing great today," Stewart said before a Tuesday afternoon weightlifting session. "Sherron is a tough kid. He's going to bounce back 100 percent. We've just got to help him all we can. This is a time we've got to keep him motivated, keep him positive."
Collins had been off to a strong start.
He scored 22 points in a 107-78 opening rout of Louisiana-Monroe and grabbed seven rebounds to go with 10 points in an 85-62 victory over UMKC.
"Sherron is an exciting player. His presence on the court ... you can feed off guys like that in the game," said Stewart, who likely will make the second start of his three-year KU career Thursday against Washburn (7 p.m., Allen Fieldhouse). Stewart started the Rhode Island game last year in place of Julian Wright, who came off the bench as a penalty for being late for a practice.
"We're going to have to have guys bring the energy Sherron had on the court and be a leader because he's a vocal leader on the court, too. That's something we'll miss. At the same time, somebody's going to have to step up," Stewart noted.
That somebody might be the 6-4, 200-pound Stewart, who had eight points off 4-of-4 shooting with four rebounds in 18 minutes against UMKC and three points and eight assists in 16 minutes versus Louisiana-Monroe.
"It's an unfortunate situation, (but) it's an opportunity for guys like me, Tyrel (Reed) and Jeremy (Case) to step up," Stewart said. "We all have to pull together and make this thing work. We've been doing it without Brandon (Rush), so we're definitely going to have to do it again without Sherron."
Stewart, by the way, wasn't shocked to hear of Collins' surgery on Monday. Collins went down in a heap after rolling his left ankle in the second half of Sunday's game against the Kangaroos. The ankle sprain may have aggravated an existing stress fracture to the point surgery was needed.
"Any time one of our players goes down, it's definitely a shock," Stewart said. "When you saw it, you kind of knew it was something when he went to the rack. Sherron is one of those tough guys who gets up right when he falls. I know I'm one of those guys. When I get hurt I at least try to get back up every time. To see him down on the ground, I knew he was hurt real bad."
Stewart - who currently is in what he calls the "best shape of my life" - can only hope the Jayhawks avoid additional injuries.
"I'm prepared if coach wants me to play (more)," Stewart said. "Last year I don't think I would have deserved it (minutes). This year I put in the work over the summer. I'm prepared to start. I'm prepared to come off the bench, whatever is best for the team. This year I'm all about winning. That's all that matters to me."
¢ Rush update: KU coach Bill Self, who this week has said junior Brandon Rush is "close to coming back," and will be back "in a short period of time," stopped short of saying Rush would play against Washburn.
"We're still evaluating the situation. Nothing's been decided," Self said Tuesday, responding to the rumor mill that has started to churn regarding Rush playing against the Ichabods.
Self has said Rush's surgically repaired right knee would not be what's holding him back, just the fact his "timing" remains off.
Self said Collins' injury has not changed Brady Morningstar's status as a red-shirt. Morningstar will continue to practice but not play in games this season.
¢ Signing Day is here: Today is the first day of the week-long early signing period in recruiting. KU will receive signed letters of intent via fax from five players who constitute Rivals.com's No. 7 recruiting class.
They are: Mario Little, 6-5 forward, Chipola (Fla.) Community College; Marcus and Markieff Morris, 6-8 and 6-10 twin forwards from Philadelphia, currently at APEX Academies (Prep School); Quintrell Thomas, 6-8, power forward, St. Patrick High, Elizabeth, N.J.; and Travis Releford, 6-5, guard, Roeland Park Miege.
Little, who attended Chicago's Washington High, is averaging 19.5 points, 5.2 rebounds and 4.2 assists a game for 4-0 Chipola.
Marcus Morris, Rivals.com's No. 37-rated player, averaged 27 points and 12 rebounds his senior year at Philadelphia Prep Charter High. He'll play 30 games this year for APEX Academies. Markieff Morris, Rivals.com's No. 72-rated player, averaged 23 points and 15 boards his senior year.
Thomas, Rivals.com's No. 147-rated player, averaged 9.0 points and 7.5 rebounds his junior year at St. Patrick High. He averaged 22 points and 12 boards last summer for New Jersey Elite AAU.
Releford, Rivals.com's No. 70-rated player, averaged 19.6 points, 6.7 rebounds, 3.0 steals and 3.0 assists his junior year at Miege.
Copyright 2018 The Lawrence Journal-World. All rights reserved. This material may not be published, broadcast, rewritten or redistributed. We strive to uphold our values for every story published.