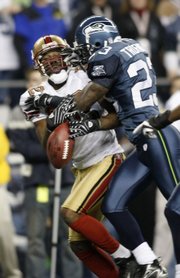 Seattle — Darrell Jackson sat stewing at his locker long after most of his San Francisco teammates left Monday night, the longtime Seattle receiver still wearing his grass-stained 49ers uniform.
After a historically bad night for his new team during another steady victory for his old Seahawks, Jackson could be excused for momentarily wishing he never had changed jerseys.
While Seattle seems ready for another strong stretch run after dominating on offense and defense in a 24-0 victory, the 49ers can only wonder how low they'll go in a losing streak that's already at seven games.
"They're doing what they always do over there, and we're still trying to get there," Jackson said, shaking his head. "I don't know when we'll get there. The 'Hawks are already there."
With no wind or rain to tempt a repeat of the 49ers' upset victory in their last trip up north, Seattle (5-4) posted perhaps its most comprehensive win of the season.
Matt Hasselbeck threw for 278 yards and two touchdowns in the Seahawks' suddenly potent passing game, while the Seahawks defense held San Francisco to 173 yards and six first downs.
"We should be successful like this all the time," said Seahawks linebacker Julian Peterson, who sacked Alex Smith for the fourth time this season. "This shows how dominant we can be if everyone plays their positions and are in the right place."
San Francisco's last trip to Seattle was the rain-soaked highlight of coach Mike Nolan's three seasons, with the 49ers rallying through howling winds and miserable precipitation for 21 fourth-quarter points and a stunning 24-14 victory.
An eerily similar storm hit Seattle early Monday, but the skies cleared by game time. The Seahawks had almost no obstacles for a consistently outstanding passing game that moved freely and easily - even using the shotgun, a rarity in Seattle - while Shaun Alexander sat out with an accumulation of injuries.
Copyright 2018 The Associated Press. All rights reserved. This material may not be published, broadcast, rewritten or redistributed. We strive to uphold our values for every story published.