Veterans Day 2007
Photo Gallery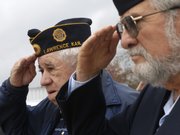 Veterans Day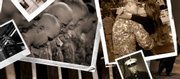 For more than six years, America has been at war. The war has helped elect politicians, kept the national deficit growing and increased ties between the world of academics and the institution of the military. Children have folded flags for soldiers. Motorcyclists, many veterans among them, have stood guard as families mourn. And others spend every Saturday at noon protesting the war. For families of soldiers, the impact is far greater: a yearlong absence from a parent, spouse or child. For the unfortunate, it is a lifetime of separation. For Veterans Day 2007, the Journal-World takes a look at how the war has touched us all.
It wasn't six weeks after she joined the Army in 1943 that Virginia Visser was sent on a ship overseas.
"They needed nurses so badly, we were on our way to Europe almost immediately," she said. She landed in England and spent the duration of World War II serving in evacuation hospitals in France, Belgium and Germany, going as far as the Elba River, south of Berlin, before the Soviets pushed American forces back as they marched toward the German capital.
Visser was one of many Lawrence military veterans commemorating Veterans Day as only they can: By banding together to remember troops who have died and celebrating the service of those who are still living.
Members of the American Legion and Veterans of Foreign Wars held a ceremony at the VFW post, 138 Ala. Several dozen veterans and their families filled the hall to pay tribute to their comrades-in-arms. A table set with a plate, silverware and a rose in a vase sat empty at the entrance of the post, a reminder that some servicemen have yet to be repatriated. A seven-member rifle squad fired a 21-gun salute after remarks by the post's leaders.
Also Sunday, Kansas University's Dole Institute of Politics hosted its third annual Tribute to Veterans, which featured a speech by former U.S. Rep. Ken Hechler, D-WV, a World War II veteran. About 50 veterans, active duty soldiers and KU ROTC candidates attended the ceremony.
'Celebration of camaraderie'
Steve Granzow, an Air Force medic from 1968 to 1972, called Veterans Day a "family affair," because his grandfather, father and daughter all served in the military. He said the event at the VFW was a chance to mix with older veterans who served in World War II and Korea.
"That's one of the nice things about it," he said. "There's unfortunately fewer and fewer of them around. It just makes you feel good inside to be around those veterans."
Betty Mitchell, a member of the VFW Auxiliary, said older veterans have a unique bond.
"They remember old, past times and experiences," she said. "I think it gives them a sense of pride for this day, because the memories are there.
"We can't understand it because we haven't been there and felt what they felt."
George O'Brien, a mechanic in the Kansas National Guard, said Veterans Day is "a celebration of camaraderie. It's a celebration of all we've been through."
O'Brien, who served in Iraq last year, called Veterans Day a celebration of life and service, while Memorial Day is a time to mourn those who have died.
Navy veteran Terrence Morris, a former combat engineer who served in the first Persian Gulf conflict, said Veterans Day, as well as the VFW, allowed him to be among comrades.
"I think it fulfills a void that nothing else can. I've got a jones for that fellowship and nothing else can fulfill that," he said.
Morris' son, Jesse, 24, said he joined his father at the VFW because he wanted to thank his father and troops who are currently serving abroad.
"This is a way for me to support my dad and my freedom," he said. "A lot of people my age don't care, and I do."
'True greatness'
At the Dole Institute, cadets from KU's Army, Navy and Air Force ROTC applauded the dozens of veterans in the audience for their sacrifices.
"Thanks is what this day is about," Air Force Cadet Alex Carrera told the group. "We are in the presence of true greatness and we look up to you. You set the bar for us, and we thank you."
"Freedom," said Navy Officer Candidate Adam Vieux, "is purchased at a high price."
Barbara Ballard, associate director of the Dole Institute and a state representative, read the names of veterans in the audience. The hall was silent as former soldiers, sailors, Marines, airmen and nurses from conflicts ranging from World War II to Iraq were recognized.
Hechler, who served in Congress between 1958 and 1977, spent four years as a combat historian in Europe, and even interviewed Adolf Hitler's deputy, Hermann Goering, after his capture. The 93-year-old Hechler elicited many laughs as he told stories from his days in the military and a long career in politics. He said he has known veterans from every war since the Civil War.
"We are enjoying the rights our Founding Fathers gave us largely because of the sacrifices our veterans and those who are no longer with us made," Hechler told the crowd.
But even veterans didn't always think of themselves Sunday.
"I probably think more of my husband than I do myself on Veterans Day," said Scottie Lingelbach, who served in the WAVES, an all-women's branch of the Navy, in World War II. Her husband was an infantryman who was wounded in France in 1944.
But the sacrifices made by vets didn't escape Visser.
"We had a great sense of patriotism that we wanted to do as much as we could at that time," Visser said.
The lack of recognition of veterans by the city roiled Jesse Morris.
"Why doesn't Lawrence have a parade for Veterans Day?" he asked.
His father, Terrence, said, " A little bit of recognition goes a long, long way."
Copyright 2018 The Lawrence Journal-World. All rights reserved. This material may not be published, broadcast, rewritten or redistributed. We strive to uphold our values for every story published.