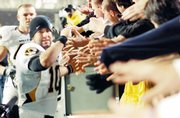 Columbia, Mo. — Missouri quarterback Chase Daniel has a lot of targets in the spread offense, so it isn't uncommon for some receivers to occasionally get lost in the shuffle.
It happened to wide receiver Will Franklin when he caught just one pass over two games last month. And despite the fact that the Tigers have what many consider to be the best tight end tandem in the nation in Martin Rucker and Chase Coffman, it's happened to both of them.
Not that they mind. Both say they're happy to share the load.
"I think him (Rucker) being here the same time as me is great," Coffman said. "It helps us both out and it takes some of the pressure off the both of us."
Rucker was the All-Big 12 tight end last season and has often been one of the go-to players for No. 7 Missouri (8-1, 4-1 Big 12), which entertains Texas A&M; (6-4, 3-3) today. He has 60 catches for 617 yards and five touchdowns.
At times, Coffman has seemed to be the forgotten man. If there was any doubt about his importance to the team, that was erased in Saturday's 55-10 victory at Colorado. Coffman had five catches for 50 yards, but three were for touchdown, giving him a Missouri record 19 for his career, one better than Justin Gage in 1999-2002.
"Chase Coffman is a great football player and he definitely won't be forgotten," Rucker said. "He might be flying under the radar a little bit but he's still playing excellent football."
That was evident against the Buffaloes. On one of the touchdown catches, Coffman turned a short pass into a score by rolling over several Colorado defenders.
On another, he jumped to snare a high pass at the back of the end zone and somehow managed to dip his toe onto the turf before going out of bounds.
"He's a walking legend now," Daniel said.
Not that Coffman, who has 44 catches for 469 yards and six touchdowns, hasn't had other big games. He had 10 catches for 102 yards in Missouri's only loss, at Oklahoma on Oct. 13, and had six catches in an early-season win over Mississippi.
Still, he has at times been overshadowed by the play of Rucker - who has had nine-, 10- and 11-catch games - and red-shirt freshman Jeremy Maclin.
Tight ends coach Bruce Walker said Coffman and Rucker make each other better.
"I think they compliment each other because they are both competitive and they both want to do well," he said. "Neither one would have achieved as much as they have without the other."
Missouri's variety of options for Daniel is a big reason the Tigers are still contending for Big 12 and national titles, Rucker said.
"You've got to have good players to win games," he said. "Good players are what Missouri had been lacking in the past, now we have enough quality guys and football players to get this thing done."
Copyright 2018 The Associated Press. All rights reserved. This material may not be published, broadcast, rewritten or redistributed. We strive to uphold our values for every story published.