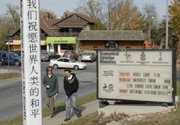 The businessmen behind the proposed Oread Inn would like to purchase another piece of property at the intersection of 12th Street and Oread Avenue.
This time, they have their sights on the Ecumenical Christian Ministries building.
For now, however, ECM is committed to renovating its building. "We're not selling or relocating yet," said campus minister Thad Holcombe. "We know we're not going to relocate. We're leaning toward renovations and bringing the building up to modern standards."
Holcombe said the building needs about $700,000 worth of work, including new kitchens, new bathrooms and, possibly, new windows. The building also needs air conditioning.
"We're fitted for air conditioning, but the compressor is from the 1960s," Holcombe said. "It's a museum piece. It looks like a nuclear bomb. There's no way we can fix that."
He said ECM would rely on funding from sponsor congregations and regional organizations, as well as donations from community members. Grants could also be available. Holcombe said renovations probably wouldn't start for five years.
Should the renovation option fall through - or if there are more repairs than ECM can handle - the Gene Fritzel Co. has offered to buy ECM's land. The development company would construct a new building on the ECM tract, and ECM could move into that building. It's unclear how large that building would be and whether ECM would be the only occupant. But, Holcombe said, that would decrease the space from about 18,000 square feet to 7,000 square feet.
"This isn't just a building," Holcombe said. "Our board feels very strongly that this is a community here."
Seven students live in the ECM basement.
Holcombe said it was his understanding the development company was interested in the ECM property for two reasons.
One, the hotel plan calls for realigning Oread Avenue so it and 12th Street intersect at a 90-degree angle, rather than diagonally. The plan also calls for taking some right of way in front of the houses and Oread Apartments opposite the ECM. Also, he speculated, the ECM's 1960s-style architecture won't fit with the Oread Inn's architecture.
Copyright 2018 The Lawrence Journal-World. All rights reserved. This material may not be published, broadcast, rewritten or redistributed. We strive to uphold our values for every story published.