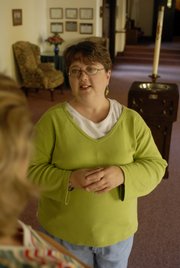 Retreat
For more information about the suicide counseling retreat at the Light Center, contact Marcia Epstein, director of Headquarters Counseling Center, at me@hqcclawrence.ks.us.
Rose Eiesland Foster attended her first Light Center healing retreat four years ago after being diagnosed with late-stage breast cancer.
Foster returned to the Light Center, 1542 Woodson Road in Baldwin City, just a few months after the suicide of her husband, Gordon.
"I listened and learned. And more importantly, I began to heal" emotionally and physically, she said.
Now, she has decided to share her Light Center experiences by organizing the group's first suicide retreat in Douglas County.
Foster and Marcia Epstein, director of Lawrence's Headquarters Counseling Center, 211 E. Eighth St., hope to help people who have experienced a loss to suicide.
The retreat at the Light Center on Saturday and Sunday will host 30 participants.
Robin Goff, Light Center founder, has arranged for a grant from The Menorah Legacy Foundation in Kansas City to pay for services for participants, including nature walks, massages, writing, art and music therapy, as well as dedication and remembrance for the survivor's loved one.
Goff lost her mother to suicide when she was 26 and two years out of nursing school. Her mother had cancer and was in severe pain when she died. At the time, she said, hospice did not exist as it does now and attitudes about pain management were different. Goff gravitated to hospice care and was a hospice chaplain for 10 years before creating Light Center.
"Feelings of shame make it hard for survivors to talk to the general public, and our society's attitude in general about death makes it especially hard," Goff said. "When a suicide is involved, there is enormous trauma; it is an assault on everything you know and believe."
Foster hopes the outcome of this year's retreat will inspire discussion to dispel myths about suicide. For example, she said, "the misconception that people who commit suicide are selfish or cowards. I can say with 100 percent certainty that none of the people in our group : would be described as selfish or cowards.
"And the stupid question of did they leave a note. If I had a nickel for every time someone asks that question. ... I guess the notion is that a note would hold all of the answers."
Claire Beier, who lost her brother, Peter, to suicide in 2006, and who will attend this year's retreat with her 7-year-old son, Christopher, says, "People think (suicide) is contagious; people are afraid to talk about it for fear it will happen to someone else. And everyone wants to know why or wants to blame it on someone."
Emily McCave, who is attending the retreat and whose mother committed suicide when Emily was 3, said, "It hasn't been the myths so much as the statements or gestures made that really hurt that people are oblivious to ... such as, 'God, just shoot me in the head if that happens' or 'I might as well kill myself.' The media also use suicide to make a dramatic scene or to show just how 'crazy' someone is."
One myth that all members say they want dispelled is that people who have lost someone to suicide need to just get over it.
"Unless a person has had experience with suicide, it's hard to know what to say to be supportive. Saying, 'It is time to get over it' is far from helpful," Foster said. "That is hurtful, but I honestly don't think that people intend to be hurtful. It is useful, as survivors, to educate them."
Copyright 2018 The Lawrence Journal-World. All rights reserved. This material may not be published, broadcast, rewritten or redistributed. We strive to uphold our values for every story published.