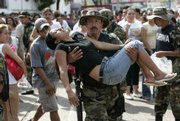 Villahermosa, Mexico — A massive wave of mud and water swept through a Mexican village Monday and up to 16 people were feared buried, officials said, as rescuers elsewhere worked furiously to deliver aid to victims of massive flooding in southern Mexico.
A landslide blocked an already rain-swollen river and pushed a wall of water and debris over remote San Juan Grijalva, home to about 600 people, most of whom fled into the hills ahead of the advancing wave.
"This village practically disappeared," said Chiapas Gov. Juan Sabines, who was at the scene where rescue workers were digging for possible victims. Helicopters were seeking residents who had fled into the hills, in order to evacuate them.
The village, 45 miles southwest of Villahermosa, is near to the border of heavily flooded Tabasco state and linked to the same river systems. The landslide was the latest damage caused by a week of devastating flooding and heavy rains that left 80 percent of Tabasco under water, destroying or damaging the homes of about half a million people.
Chiapas officials said between 12 and 16 people were missing and feared buried, while the federal Interior Department placed the number at 16. No bodies have been found.
Meanwhile, at least 20,000 people in nearby Tabasco remained trapped Monday on the rooftops of homes as hungry and dehydrated victims scrambled for government packages of food and medicine.
Gov. Andres Granier ordered central streets in the state capital of Villahermosa closed to all but rescue workers to prevent looting.
President Bush expressed his sympathy Monday to Mexican President Felipe Calderon over the suffering caused by the flooding. Gordon Johndroe, a spokesman for the National Security Council, said Bush told Calderon the United States was ready to help the Mexican people meet their immediate needs and rebuild their lives and communities.
U.S. Ambassador Tony Garza said the U.S. had pledged $300,000 in emergency assistance to Tabasco and Chiapas.
Copyright 2018 The Associated Press. All rights reserved. This material may not be published, broadcast, rewritten or redistributed. We strive to uphold our values for every story published.