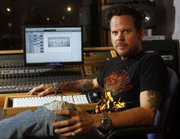 Nashville, Tenn. — Gary Allan looks at his gold and platinum records hanging in his manager's office. There's no burst of pride, but instead a quiet restraint.
"They make me very uncomfortable," he says. "I don't like to talk about how great things are."
Allan has been a steady presence in country music since 1996, but his life and career are still recovering after his wife's suicide in 2004. He's just released his first studio album in two years, "Living Hard." His greatest-hits CD has been on the market since spring.
"I'm in a good place," he says as he sipped coffee during an interview. "I sleep well at night, and the music has been very healing. No therapist could have done better."
Allan's publicist warned against asking any questions about his wife's death, but the 39-year-old singer mentions it in a general way on his own.
After Angela took her life at their home north of Nashville, Allan dropped the traditional "meet and greet" before his shows. He wearied of the constant well-meaning expressions of sympathy.
"I became the ambassador to suicide," Allan says.
He's since restored the gatherings, but he now limits those participating to just three.
Allan also protects himself on stage. One song on his new CD, "Yesterday's Rain," is off-limits during live performances. The ballad recounts the fond memories of a lost love, "the touch of your skin, the taste of your lips."
"I can't do it live," Allan says. "It's too emotional."
Wearing a Black Crowes T-shirt, Allan sat for an interview to promote his new album. He's buoyed, too, by a forthcoming tour with Keith Urban.
It's his seventh studio album, with themes of the heartbreak, misfortune, living the risky life, forging a relationship and the pursuit of security and love. One cut, "Watching Airplanes," a wrenching ballad about the regret over a faded romance, is already getting radio airplay.
"I'm trying to evolve and push myself into new places," Allan says.
The title cut is a rocker about the challenging life of a musician, "rollin' like the Stones, startin' to look like Dylan."
The Rolling Stones, in fact, often are part of Allan's pre-show routine. He and his seven-member band gather on his tour bus and watch a DVD for inspiration. Other favorites are U2 and Waylon Jennings.
"The whole band watches with me; it's our time to focus. Then we take a shot of Jagermeister and hit the stage."
He's obligated to sing his No. 1 hits, including "Tough Little Boys," "Man to Man" and "Nothing on but the Radio." But lately he's been doing covers of Del Shannon's "Runaway" and Tom Petty and the Heartbreakers' "Breakdown."
If this CD does well, don't expect a big celebration. He's discouraged such activities in the past.
"I finally went to one, stopped in, did the pictures. I just don't enjoy the parties.
"I'm introverted in a business that forces you to be extroverted."
Copyright 2018 The Associated Press. All rights reserved. This material may not be published, broadcast, rewritten or redistributed. We strive to uphold our values for every story published.