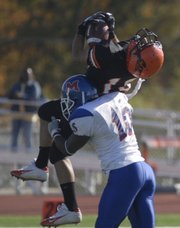 Baldwin City — Mack Brown's marvelous aerial circus seemed like it might play forever. Then MidAmerica Nazarene struck his tent.
Brown and his Baker University teammates couldn't overcome the NAIA No. 16-ranked Pioneers, falling 34-30 on Saturday afternoon in Heart of America Athletic Conference football at Liston Stadium.
"It's very tough going out like this on Senior Day," said Brown, BU's sophomore quarterback, "and losing for the first time at home."
The 6-foot-3, 215-pound Brown finished with a personal-best 354 yards passing, but 280 of those yards and all three of his touchdown passes came in the first half as Baker nursed a 23-21 lead.
Brown threw for only 74 yards in the second half. In fact, the Wildcats' lone second-half score came on a 55-yard punt return by James Henley, who had caught two of Brown's TD passes, including a 79-yard bomb, earlier.
"We hurt them in the first half," Hensley said, "but they're a good team, and they were able to adjust."
Hensley's punt return midway through the third quarter gave the 'Cats a 30-28 lead. Then the lead changed hands for the fourth time with 10 minutes remaining when MANU's Pat Ealy punched over from the two for his third TD of the day.
Baker didn't go out with a whimper, however. With 4:16 remaining, BU took over on its own 22. Four plays later, the 'Cats were on MANU's 17, thanks mostly to Brown's 40-yard pass to Hensley.
But a sack sandwiched between a couple of Brown incompletions ended the threat. Particularly damaging was the nine-yard loss on the sack.
"They didn't disguise their defense so much as bring the house," Brown said of that damaging setback.
MANU's coaches did make a subtle changes in their pass defense scheme in the second half, switching from a loose zone to a tight zone.
"They went from Cover Two to Cover Three," Brown said, adding with a smile: "I wish they had stayed in Cover Two."
MANU (8-2) ended Baker's six-game home win streak dating back to last season. Baker (5-5) now needs to knock off Avila on the road next week in order to post its first winning season since 2000.
Avila ended an eight-game losing skid on Saturday by punishing Haskell Indian Nations University, 59-21.
"I'm just frustrated after losing a football game we could have won," BU coach Mike Grossner said. "We had first down inside their 20 and you think you're going to do something, and we didn't."
Lack of balance on offense didn't help. Brown threw for 354 yards, but the Wildcats' totaled just 352 yards because they had no running game.
Tailback Richie Bryant gained only 15 yards on 17 carries while sub Frank Owens managed only five yards on five carries. And those 20 yards were wiped out by Brown losing 22 yards on sacks.
Meanwhile, MANU's Ealy rushed for 193 yards on 29 carries and quarterback Matt Schneider, the HAAC's total offense leader, passed for 223 yards and ran for 31 more.
Because MANU ran 80 plays to Baker's 46, BU's defenders piled up some big tackling numbers. Linebacker Micah Mason had 20 stops while cornerback Colton Miller and linebacker Spencer Curran were credited with 13 apiece.
Copyright 2018 The Lawrence Journal-World. All rights reserved. This material may not be published, broadcast, rewritten or redistributed. We strive to uphold our values for every story published.