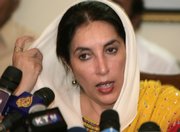 Islamabad, Pakistan — President Gen. Pervez Musharraf suspended Pakistan's constitution and deployed troops in the capital Saturday, declaring that rising Islamic extremism had forced him to take emergency measures. He also replaced the chief justice and blacked out the independent media that refused to support him.
Authorities began rounding up opposition politicians, cut phone lines in Islamabad and took all but state television off air, defying calls from Washington and other Western allies not to take authoritarian measures.
Musharraf's leadership is threatened by an increasingly defiant Supreme Court, the re-emergence of political rival and former prime minister Benazir Bhutto and an Islamic movement that has spread to the capital. The Supreme Court was expected to rule soon on the validity of Musharraf's contentious re-election last month.
Analysts said the emergency measures may only postpone Musharraf's political demise.
In a televised address late Saturday night, Musharraf looked somber and composed, wearing a black tunic rather than his usual military fatigues. He said Pakistan was at a "dangerous" juncture.
"The extremism has even spread to Islamabad, and the extremists are taking the writ of the government in their own hands, and even worse they are imposing their obsolete ideas on moderates," he said.
Musharraf's order allows courts to function but suspends some fundamental rights guaranteed by the constitution, including freedom of speech. It also allows authorities to detain people without informing them of the charges.
He replaced chief justice Iftikhar Mohammed Chaudhry - who had emerged as the main check on his power. Musharraf's popularity plunged after he tried and failed to fire Chaudhry this spring, sparking popular protests against military rule.
Musharraf was overwhelmingly re-elected last month by the current parliament, dominated by his ruling party, but the vote was challenged. The Supreme Court was due to rule on whether he could run for president while still serving as army chief before his current term expires Nov. 15.
Musharraf criticized the court for failing to validate his re-election and for punishing government officers, including police. He said this had left the government system "semi-paralyzed."
His emergency order accused some judges of "working at cross purposes with the executive" and "weakening the government's resolve" to fight terrorism.
Musharraf claimed that the court had ordered 61 terrorists freed - an apparent reference to a case that has been led by the now-deposed chief justice to press authorities over suspects held by intelligence agencies without charge.
Seven of the 17 Supreme Court judges immediately rejected the emergency, which suspended the current constitution. Paramilitary troops blocked entry to the Supreme Court building and erected road blocks and barred access to the official residences of lawmakers and judges. They later took the deposed chief justice and other judges away in a convoy, witnesses said.
Musharraf said he hoped democracy would be restored following parliamentary elections.
"But, in my eyes, I say with sorrow that some elements are creating hurdles in the way of democracy," Musharraf said. "I think this chaos is being created for personal interests and to harm Pakistan."
Musharraf, who seized power in a 1999 coup and has been a close ally of the United States since the Sept. 11, 2001, attacks, has struggled to contain Taliban and al-Qaida-linked militants who have gained control of large tracts of the volatile northwest near Afghanistan. Hundreds have died in fighting in recent weeks.
Copyright 2018 The Associated Press. All rights reserved. This material may not be published, broadcast, rewritten or redistributed. We strive to uphold our values for every story published.