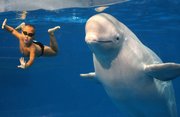 Beijing — An 8-year-old girl runs 2,212 miles to Beijing in 55 days. A 10-year-old swims in a river with her hands and feet bound. And then there's 4-year-old Yang Yang, riding a 1,000-pound beluga whale.
Kids' stunts such as these are becoming more common as Olympic fever rises with the approach of next summer's games. But don't expect any great outcry. In China, where one-child families are the government-enforced norm, pushing a child to overachieve is a social imperative.
Yang Yang's grandmother, 55-year-old Jing Xueying, dreams of the boy growing up to be a world champion swimmer. "That's the dream. I'm working hard here to achieve it ... I think my dream will come true," she told AP Television News at the aquarium where Yang Yang rode a beluga whale named Xiao Qiang.
Meanwhile, Zhang Huimin spent the summer running 40 miles a day from her home on the southern island province of Hainan to Beijing in northern China, her father trailing behind her on an electric bicycle.
And last month, a father in southern China tied his 10-year-old daughter Huang Li's hands and feet and watched her swim in a chilly river for three hours.
Both men said they were helping their daughters achieve their dreams - one of running in the Olympics, the other of swimming the English Channel.
Chinese media reports about the feats invariably quote bystanders who wonder whether such activities are dangerous or unhealthy.
But the criticism ends there; children's rights are only just now starting to creep into the Chinese public consciousness.
"Here in this part of the world, you've still got very different ideas about children and their relationship in the family to what you have in America," Evans said. "The idea that children should have rights over and above their parents is simply culturally foreign."
The pressure is compounded by China's family planning rules. Most couples are limited to one child, who must shoulder alone the expectations of parents and grandparents.
The whale rider, whose real name is Huang Yan but is simply known by his nickname Yang Yang, has been going to the Polar Ocean World Aquarium in his hometown of Qingdao for more than four months to swim with Xiao Qiang.
The boy began swimming before he was a year old, and fell in love with the whale after seeing him perform in an aquarium show.
Jing said the boy came home from the aquarium asking if he could play with the whale, so she approached aquarium officials.
At first they were worried for his safety, "But after discussions among aquarium managers, they decided to try it and discovered that little Yang Yang was a strong swimmer," said Mu Peng, the aquarium's publicity director.
Xiao Qiang's trainers aren't completely sold on the idea.
"When Yang Yang goes in the water, we have special people watching him," trainer Zhong Tao said. "We can't allow a person who isn't normally around animals to get in there because what if something happens? People and animals are different."
He said an angry beluga is apt to attack, but Yang Yang's grandmother said she isn't worried.
Yang Yang's mother has noticed that swimming with the whale has made her son more loving toward animals. She just wants him to grow up healthy, study hard and become a "useful" person one day.
It's hard to say whether the 4-year-old with a distinctive buzz-cut knows he's a celebrity. Most of his answers to reporters consisted of "mmm" while twisting his T-shirt.
But Yang Yang did say he was at ease with the whale.
"He doesn't bite," he explained.
Copyright 2018 The Associated Press. All rights reserved. This material may not be published, broadcast, rewritten or redistributed. We strive to uphold our values for every story published.