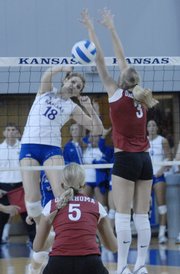 "My, how the mighty have fallen," one Kansas University student said to another after the two failed to get the rest of the crowd to join them in their KU volleyball chant at Horejsi Center Saturday night.
Perhaps worn out from the football team's drubbing of Nebraska earlier in the day, the KU student section - known as Ray's Boys for coach Ray Bechard - and the rest of the Jayhawk faithful seemed less than boisterous for the volleyball team's showdown with No. 18 Oklahoma when the match started.
But the fans and players went wild more than two hours later when the Jayhawks upset the Sooners in five games, 30-26, 28-30, 20-30, 30-27 and 15-10, to earn their first victory over a ranked team all season.
KU (11-14, 4-11) didn't look like it would knock off a mighty top-25 foe in game four. The Jayhawks were down, 15-20, before going on a 15-7 rally that squashed the momentum OU (18-7, 10-5) had built by taking the previous two games.
"We made enough plays to get it interesting. We made enough plays to get momentum turned," Bechard said.
KU had lost six straight coming into the contest.
"The kids were so happy in the locker room," Bechard said. "They needed an opportunity to celebrate."
Junior Natalie Uhart said they needed the victory.
"I think we wanted to win so bad it hurt, and we got it done," she said.
KU got that opportunity with balance. Four Jayhawks - freshmen Jenna Kaiser and Karina Garlington, Uhart and senior Caitlin Mahoney - finished with double-figure kills. Senior Emily Brown added 38 assists and 15 digs, and sophomore Katie Martincich finished with 23 assists and 16 digs.
"We had a lot of good performances tonight," Bechard said. "You look back at this, and it's just a blur of teamwork and six people working together to make it happen."
Another contributor for KU was junior Savannah Noyes, who recorded game-winning kills in the first and fourth games.
"They were very determined tonight," Bechard said.
Uhart was glad to see so many Jayhawks chip in.
"It was nice that there wasn't just one player getting plays done," she said. "Everybody was doing their job, and I think that's what's special about the team - everyone's contributing and playing their part and working their butt off."
The upset victory wasn't the only special part of the evening. The contest with OU was dubbed a "Dig for the Cure" match. KU team members collected pledges for digs recorded by each team, and the funds raised will benefit the Kansas City chapter of the Susan G. Komen Breast Cancer Foundation.
A total of 150 digs were recorded during the five games, with KU beating OU in the category, 81-69.
Kansas will play host to No. 3 Texas at 7 p.m. Wednesday.
Copyright 2018 The Lawrence Journal-World. All rights reserved. This material may not be published, broadcast, rewritten or redistributed. We strive to uphold our values for every story published.