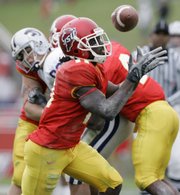 Ames, Iowa — Iowa State coach Gene Chizik could see the Cyclones improving even as the losses kept piling up.
On Saturday, their progress finally resulted in a victory.
Chris Singleton made two key interceptions, Alexander Robinson ran for two touchdowns, and Iowa State stunned Kansas State, 31-20, to snap a six-game losing streak.
Austen Arnaud, a freshman seeing his first dose of significant playing time, was 5-of-7 passing for 130 yards to lead the Cyclones, who had lost their first five conference games by an average of 23 points.
But Iowa State took Oklahoma to the wire on Oct. 20, losing 17-7, and it put up 28 points last week in a loss at Missouri.
It all came together against the Wildcats, who were denied in their effort to reach bowl eligibility.
"I think we've gotten better as a football team the last three weeks," said coach Gene Chizik, who picked up his first Big 12 victory. "I think it's been long overdue."
Arnaud shared time with Bret Meyer, who was 12-for-19 for 98 yards. Meyer also had a touchdown pass and an interception.
Down 11 with 4:15 left, Kansas State went for it on fourth-and-1 at the Iowa State 1. Quarterback Josh Freeman tried to leap over the pile, but was stood up by Ahtyba Rubin and Jon Banks.
Kansas State made a stop and quickly got the ball back to the Iowa State 28, but Daniel Gonzalez let a Freeman pass slip through his hands. Singleton picked it off to seal the win.
"We had a good game plan coming in. We did not execute well and we did not adjust," Kansas State coach Ron Prince said. "If you're a smart coach you've got to be able to get over it, but this is going to take me a while to get over.
Jordy Nelson had 13 receptions for 194 yards and a touchdown for Kansas State. Freeman was 28-of-44 passing for 347 yards and a touchdown, but was done in by two costly interceptions.
With the Wildcats trailing 21-10 midway through the third quarter, Freeman tried to force a pass to Jerod Mastrud. Linebacker Alvin Bowen tipped the ball before Singleton hauled it in and ran 21 yards for the score.
Brooks Rossman connected on a 35-yard field goal, and James Johnson's five-yard TD run brought Kansas State within eight late in the third quarter. Kansas State had a drive stall at the Iowa State 28 with 12:10 left, and Rossman missed from 45 yards out.
Arnaud then found Todd Blythe for a 51-yard reception, setting up a 25-yard field goal by Bret Culbertson that put Iowa State ahead 31-20 with 8:12 to go.
The loss ended any shot Kansas State had at competing for the Big 12 North title. The Wildcats still have three chances to reach bowl eligibility, starting next Saturday when they host a Nebraska team fresh off a 76-39 pasting at Kansas.
"It's very clear to have an opportunity to win the Big 12 North. It's now pretty much out of the question," Prince said. "Our issues with the team we have now are a lot more important than trying to win the title at this point."
Iowa State's coaches had planned to use Arnaud more this season, but he had been bothered by a left foot injury for the past month.
Copyright 2018 The Associated Press. All rights reserved. This material may not be published, broadcast, rewritten or redistributed. We strive to uphold our values for every story published.