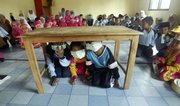 Mount Kelud, Indonesia — Villagers fled the slopes of one of Indonesia's deadliest volcanos Saturday after seismic readings indicated that an eruption had started after weeks of heightened activity.
But Surono, a senior government volcanologist who goes by a single name, told el-Shinta radio station late Saturday that monitoring equipment close to the crater of Mount Kelud was still working, indicating that there had been no eruption.
"In reality Kelud did not erupt," Surono said.
The volcano in the heart of densely populated Java island was shrouded in fog and no visual confirmation of the eruption reports was possible before night fell, government seismologist Umar Rosadi said.
Scores of people, including women hauling babies in slings, descended from the mountain in police trucks and on bicycles and motorcycles. Some were in tears, and many wore masks to protect against volcanic ash.
"I am afraid because the authorities say this eruption will be worse than the ones that have come before," said Marsini, resident of a village three miles from the crater. "They say there may be poisonous gas. I am leaving now."
Rosadi and another government scientist said official monitors had left their posts after detecting continuous tremors.
For weeks, authorities have warned of an eruption and pleaded with villagers to move to tent camps or government buildings.
Thousands have evacuated villages closest to the crater but many people have insisted on staying behind to tend to crops or look after their houses.
Some apparently believe a local myth stating if they stayed at home without switching indoor lights on or speaking in a loud voice then the mountain would not erupt.
Copyright 2018 The Associated Press. All rights reserved. This material may not be published, broadcast, rewritten or redistributed. We strive to uphold our values for every story published.