Photo Gallery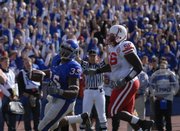 KU vs. Nebraska
-->
Candidates for Game balls
¢ Todd Reesing stretched his streak to 139 passes without an interception. He threw six touchdown passes, a single-game school record, and also broke the single-season KU record with 23 touchdown passes.
¢ Brandon McAnderson did most of the work on a 36-yard reception, and tied a school record with four rushing touchdowns. He gained 119 yards on the ground.
¢ Dezmon Briscoe's three TD receptions gave him a freshman-record seven on the season.
Candidates for Gassers
¢ Referee Randy Christal mistakenly announced to the crowd late in the first half, "Timeout, Kansas State."
¢ Linebacker James Holt was the one getting chewed out after a blown coverage made it easy for Marlon Lucky to turn a short pass into a 62-yard touchdown.
Copyright 2018 The Lawrence Journal-World. All rights reserved. This material may not be published, broadcast, rewritten or redistributed. We strive to uphold our values for every story published.