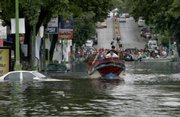 Villahermosa, Mexico — The newly homeless men and women of this flooded capital patiently line up to appear on a local TV station that has been broadcasting their messages day and night.
They speak quickly, mindful of others waiting. They say they're at a shelter and are OK. Some hold up handwritten signs with cell phone numbers and beg relatives to call. One woman, eight months pregnant, asks viewers for any information about her missing parents. They know it's a long shot. Few buildings have power for TVs.
But hope is all that remains for many of the estimated 1 million residents driven from their homes by flood waters that still cover more than three-quarters of the gulf state of Tabasco. Many lost their possessions in flood waters that have risen as high as three stories.
Rescuers on Saturday continued to ferry stranded families from rooftops, and tens of thousands of people joined a bumper-to-bumper exodus for the higher ground of neighboring states. Roughly half the population was said to have been displaced by flooding triggered by heavy rains this week. One death has been reported.
"We couldn't bring much," said Teresa Robles Pintado, 47, one of 800 refugees at a school serving as a shelter here. "We were rescued in small launches and they wouldn't let us bring clothes or anything because they needed to hurry and get other people."
Government officials planned for 500 people to stay at the Jacoba Vazquez School. But a severe shortage of shelters has forced refugees to cram together, and even then there is room for only a small fraction of Tabasco's many homeless.
Officials said they are worried about the spread of water-borne diseases as the increasingly fetid water cooked in the tropical weather. Rains returned overnight Friday, but the sun shone most of the day. Forecasters said the worst of the storms was over for now.
Artist Edna Badillo, 35, said she abandoned her third-floor apartment downtown after the capital suffered its worst flooding early Friday. She made her decision after looking out her window and seeing dead rats among the flotsam in the brown waters.
"My boyfriend didn't want to leave," she said. "I left him the keys, packed my stuff and left. I value my life over any material things."
Another thousand Mexican soldiers arrived Saturday, bringing to 13,000 the number of soldiers, sailors and federal police helping with rescues and keeping order.
Tabasco Gov. Andres Granier grew angry when he was shown video footage of looters carting off electronics from a store here. "They're not even taking food. Look at what they're taking. There's not even electricity for that stuff," he said.
Copyright 2018 The Lawrence Journal-World. All rights reserved. This material may not be published, broadcast, rewritten or redistributed. We strive to uphold our values for every story published.