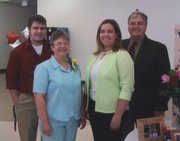 Joining the club
Four-H is a national program designed to help youths acquire five life skills: nurture a positive self-concept, promote sound decision-making skills, develop positive interpersonal relationships, instill the desire for lifelong learning and develop a concern for the community.
More than 500 children, ages 7-19, are members in Douglas County.
For information about 4-H or how to join, contact Emily Morehouse, Douglas County 4-H youth development agent, by telephone at 785-843-7058 or by e-mail at morehous@oznet.ksu.edu.
They don't own pigs, horses or cows. They don't even live on a farm or in a rural area. This year's 4-H Family of the Year resides near Clinton Parkway.
Dick and Sue Ashcraft are longtime Lawrence residents and 4-H volunteers. Their grown children, Jim and Erin, enjoyed projects such as woodworking, foods and leadership when they were in 4-H.
So, receiving one of the county 4-H program's highest honors today is extra special, especially to Sue, who constantly is trying to fight the "farm image" as an adviser to the 4-H ambassadors who promote and market the program.
"It's a fallacy for people to think that you have to live in the country to be a 4-H'er," Sue said. "The image that most people have is that it is a rural institution, and it isn't."
Growing up in the city, Erin said she was grateful for 4-H because it provided her with opportunities to travel, meet interesting people, compete in projects such as clothing and get a taste of what rural life might be like. She enrolled in the horseless horse project where she was able to show someone else's horse. That led to riding lessons and training horses.
Nomination for honor
Erin, now a junior at Kansas State University where she studies animal science, bought her first horse last year.
"If it wasn't for 4-H, I would never have really gotten into the horses," she said.
Erin shares her knowledge of horses with members of the Four Leaf Clover 4-H Club, where she was a member for 12 years.
Paula Aiken, community leader of the Four Leaf Clover 4-H Club, nominated the Ashcrafts for the honor because the entire family is always willing to lend a helping hand.
"They are a very hard working family, and I think they epitomize the ideals of 4-H. It is a family organization, and it is something that they have all been involved in," Aiken said.
Jim, 22 and a PackerWare employee, was a Four Leaf Clover member for 10 years and shares his love of woodworking with 4-H'ers and helps with fundraisers.
"Even though Jim and Erin are no longer in 4-H because they are too old, they are still actively involved," Aiken said.
And Sue, who was a 10-year 4-H member and has volunteered for about 15 years, hasn't slowed down since her children have outgrown the program.
"My mom is really, really involved. I think 4-H is my mom's life," Erin said, laughing.
Sue, a retired teacher who still substitutes, serves on the Douglas County 4-H Foundation, is a clothing superintendent at the Douglas County Fair and assists county 4-H'ers with their record books. Those record books play an important role in winning county awards and pins.
Recognizing achievement
About 250 4-H'ers will receive such honors today at the annual Douglas County Achievement Celebration. And while the Ashcrafts will be among the honorees, Sue is looking forward to seeing the fruits of her volunteer work.
"I just get a lot of satisfaction out of seeing the kids grow up, not just my own kids but the 4-H'ers, and how much they blossom from the time they first start out as 4-H'ers and can't get up and talk in front of a group until they are in high school, and they are so poised and sure of themselves. It is really satisfying to see that," Sue said.
Dick, a forklift operator at PackerWare, doesn't feel like he deserves credit for the family award, but Aiken begs to differ.
"He's always been that person who has kind of stayed in the background, but at the same token, if something needs to be done, he is right there. He will work the concession stands. He helps with the club fundraisers," she said. "We can always count on him to be there and fill in. He's been a very supportive dad."
Copyright 2018 The Lawrence Journal-World. All rights reserved. This material may not be published, broadcast, rewritten or redistributed. We strive to uphold our values for every story published.