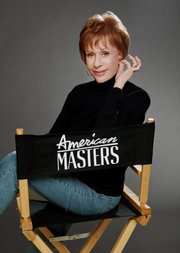 New York — During her lengthy career, Carol Burnett has shown she's a fine dramatic actress in films like "Pete 'n' Tillie," "The Four Seasons" and "Friendly Fire."
She has the sort of singing voice that can fill a Broadway theater, and did, notably when she starred in "Once Upon a Mattress."
But more than anything, she is a comedian and a TV institution, demonstrated beyond question on her long-running CBS variety series, "The Carol Burnett Show."
It was there she embodied countless madcap characters, and where, for an 11-season run that began 40 seasons ago, she piled up indelible TV moments: her charwoman, her Tarzan yell, the repurposed drape she wore to spoof "Gone with the Wind," her tug of the earlobe as a signal to her Nanny.
There also was the ritual with which she opened each show: taking questions from the audience. Weekly, she was stepping from behind a character or song to reveal herself, with cleverness and charm, to her fans. They loved it.
We still do. So a scattering of Q-and-A excerpts serves as an apt structural device for her "American Masters" portrait.
Premiering 8 p.m. CST Monday on PBS, "Carol Burnett: A Woman of Character" starts with an audience member from a distant broadcast asking Carol to recall her most embarrassing question.
"It was whether I had ever had a sex change," she replied. "I think that takes the cake."
The next person's question - "Did you?" - set off a second explosion of laughter.
With Burnett's full participation - in those Q-and-A clips as well as recollections from her now, at age 74 - "A Woman of Character" tells her story.
She was a child of alcoholics who grew up poor just a few blocks (but a world away) from the glamour of Hollywood. Still, she immersed herself in Hollywood. With Nanny, the grandmother who raised her, she routinely took refuge at the movies, as many as eight of them a week. Then, with her friends, she acted out the characters she met on the screen.
At UCLA she discovered student theater and realized she was funny. She moved to New York. She proved herself on the stage and, more importantly, on live TV. And by her mid-20s she was a star.
"A Woman of Character" charts these steps, and those that followed. And it reminds us (even we who have known her since the birth of her career) how special she is: a comic performer combined with a clown; an actress chock-full of zany identities but also, underneath them all, a woman her audience identifies with.
"I don't think you can get more American than Carol Burnett," says Kenny Solms, who was one of her writers, in the film. "She really is apple pie."
Her longtime friend Julie Andrews calls her "brave."
And the director Peter Bogdanovich says: "Carol has an enormous vulnerability. We sense it, we know it."
Her comedy is often uproarious, but there is nothing glib about it - or her.
Watch her in a 1959 live airing of "The Garry Moore Show," where she first gained wide exposure. The sketch, by a young staff writer named Neil Simon, finds Carol (as the nursery-rhyme character Jill) tearfully visiting Jack (played by series regular Durward Kirby) in the hospital. He is recovering from - what else? - a broken crown.
Jill is distraught to see him this way. "Jack," she sobs, "why'd you have to go up the hill?" And she sees no recourse but to come tumbling after. She throws herself out the window.
It was Burnett's first experience with such a stunt, as she recalls in the film. But she was gung-ho, and blessed with an innate physicality (and glad there was a mattress on the other side).
In September 1967, she got a show of her own, with a dream team that eventually included Harvey Korman, Tim Conway, Vicki Lawrence and Lyle Waggoner (all heard from in the film).
"God, we laughed for 11 years," Burnett was marveling recently. "It was the best job anybody could ever have."
She was speaking with a reporter, and a fan, who was looking for her secret: how she does it, how she channels all those characters so convincingly.
"What helped me a lot was deciding how I was going to look, what I was going to wear," she explained. "I work from the outside in."
Copyright 2018 The Associated Press. All rights reserved. This material may not be published, broadcast, rewritten or redistributed. We strive to uphold our values for every story published.