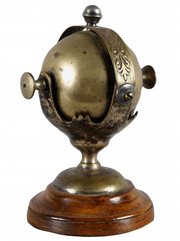 Current prices
Current prices are recorded from antiques shows, flea markets, sales and auctions throughout the United States. Prices vary in different locations because of local economic conditions.
¢ Heisey toothpick holder, Beaded Swag pattern, ruby stain, engraved name, 1903, $55.
¢ Head vase, blond woman, bristle eyelashes, green cape, white flowers, Ucagco, 5 1/2 inches, $110.
¢ Donald Duck cart toy, Donald in front of cart, blue wagon in back, when pulled Donald's arms swing up and down, Fisher-Price, No. 544, $145.
¢ Popeye night-light, Popeye carrying ice cream cone, 1930s, $180.
¢ Moxie Soda string holder, milk glass panel reads "Drink Moxie, Clean, Safe," bent-wire bottom, 8-by-26 inches, $360.
¢ Hattie Carnegie perfume bottle, Hypnotic, woman's head and shoulder, stopper, gold enamel, 4 inches, $645.
¢ Schoenhut pouty girl doll, brown painted eyes, light brown mohair wig, 1910-era dress, antique underwear, straw hat, 22 inches, $860.
¢ Rococo Revival gilded bench, serpentine frame with scrolls, floral design, cabriole legs, stamped "J. Butler, 1876," 16-by-36-by-20 inches, $2,115.
¢ Salesman-sample stove, nickel-plated oval emblem in shape of ocean liner on oven door, "The Great Majestic," iron and steel, crank for coal shaker, 31-by-18 inches, $6,325.
Bell collectors often specialize in one type of bell or sort their bells for display. Best known to most of us is the school bell, a metal bell with a long wooden handle that was rung to bring children in from the playground. Decorative china and glass bells excite one group of collectors; silver and brass bells are wanted by others. Figural bells - those shaped like a man, woman, animal, bird or even a house - are also popular. Collectors also look for Sarna bells made in India and first sold in the United States in 1933. Often these were sold on chains or ropes. The bells came with a booklet that told the story of the brass bells. Sleigh bells used on horses were always made in sets attached to a leather strap. Another unusual type of bell is what some collectors call a "signaling bell." Old movies often show a new arrival at the front desk of a hotel hitting the top of a metal dome-shaped bell to summon the clerk. An elaborate version of this bell is found decorated with mother-of-pearl shells and gold-colored filigree, making it attractive enough to be used in a bedroom to call a servant. And, of course, there is the old bicycle bell that could be mounted on a handlebar and used to warn others a rider is nearby. If you're interested in bells and bell collecting, you might want to contact The American Bell Association (www.americanbell.org).
Q: I'm trying to find information about a furniture company named H. Pander & Zonen. I have some dining-room chairs labeled with that name. I think they're from the early 1900s.
Your chairs were made in the Netherlands by a furniture company whose name translates to H. Pander & Son. Harmen Pander and his son, Henk, ran the company. In 1924 H. Pander & Son bought an aircraft-manufacturing company and started making small airplanes. Throughout the next decade, Pander became better known for making airplanes but appears to have continued to make furniture through the mid-1930s.
Q: I have an old Feemster vegetable slicer made in Brooklyn, Mich. The patent numbers are 227 3989 and 240 1669. I was told that it also was known as the "Prince William" slicer and taken off the market because too many people cut off their fingers with it. Any truth to the story? When was it made?
A: Your vegetable slicer was patented in the 1940s. The M.E. Heuck Co. of Mason, Ohio, currently distributes a product called Feemster's "original" vegetable slicer. It now has a "safety" holder for the food.
Q: I was just told that Mickey Rooney, the movie star, was named after an antique toy. Do you know anything about that story? I am a longtime Mickey Rooney fan and want the toy.
A: The story is about Mickey Rooney and a comic-strip toy. The Toonerville Trolley, a funny electric street car, was featured in "Toonerville Folks," a comic strip by Fontaine Fox that ran from about 1913 to 1955. Within a few years of its introduction, the strip was often given the trolley's name. Characters in the strip included Mickey (Himself) McGuire, Aunt Eppie Hogg and Powerful Katrinka. You still hear people call someone a "powerful Katrinka" without knowing the origin of the name. Mickey McGuire was a very popular character, so Joe Yule Jr., the child actor who played McGuire in several silent movies, took that as his name. Fox sued the child and made him change his name. He changed it to Mickey Rooney. There are several different versions of the Toonerville Trolley toy and its riders. Most are windup toys made of lithographed tin. An example in good condition would sell for about $500 to $800.
Q: A friend just got a modern carving that is supposedly amber. I just saw the same figure online in a blue material. Is there a process for making amber or a lookalike? Are there carvers who work with amber now? Is there much raw amber around?
A: Modern carvings that look like they're made from turquoise, amber, coral or some other material have been fooling tourists for years. They are still being made in China and sold everywhere. Most of them are made from either plastic or a soft stone dyed to resemble a more precious material. Real, high-quality amber can still be found in Russia, northern Germany and other areas. But most of the inexpensive amber you see in gift shops is made from small pieces of amber that are treated to blend together to make large pieces of amber. Our advice: Don't buy an expensive carving if you don't know the seller.
Tip
Always apply hair spray or perfume before you put on your jewelry. Both products damage some metals and stones.
¢
The Kovels answer as many questions as possible through the column. By sending a letter with a question, you give full permission for use in the column or any other Kovel forum. Names and addresses will not be published. We cannot guarantee the return of any photograph, but if a stamped envelope is included, we will try. The volume of mail makes personal answers or appraisals impossible. Write to Kovels, (Lawrence Journal-World), King Features Syndicate, 300 W. 57th St., 15th Floor, New York, NY 10019.
Copyright 2018 The Lawrence Journal-World. All rights reserved. This material may not be published, broadcast, rewritten or redistributed. We strive to uphold our values for every story published.