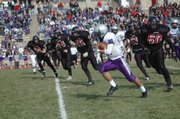 MARYSVILLE — It might not have been pretty, but in the postseason only victories count.
Baldwin High (9-2) did get the football victory Saturday over Marysville (5-6). In a battle of Bulldogs, Baldwin came out on top, 28-7, to advance into the Class 4A sectional round.
"We are a little bit lucky, because we didn't play very well today," Baldwin coach Mike Berg said. "We are super excited to be in the final eight. Our kids played hard the whole game. We had a lot of mistakes that we need to fix."
Although Berg wasn't happy with his team's performance Saturday, his players were thrilled to keep their season alive.
"This feels great," Baldwin senior Jesse Green said. "There were signs all around that said stuff about a dog fight. We knew it was going to be a battle."
Green helped seal Baldwin's victory early in the third quarter by intercepting a Marysville pass and returning it 36 yards for a touchdown. The defensive TD set the final score, as Baldwin led 28-7 at that point and neither team scored again the rest of the way.
"That was great," Green said of his interception. "I loved it. The guys were giving me a hard time for not running the last one back. I just sat there, and the ball came right to me. I was off to the races, and Gabe (Mason) threw a great block for me."
Two plays before Green's interception, Baldwin scored on the opening possession of the second half. Kyle Smith gave BHS great field position with a kick return to its own 43 yard line. Then BHS ran the ball seven times during a 57-yard scoring drive. Senior Jared Hall finished the drive off with a one-yard touchdown plunge.
Next up, Baldwin will play Columbus High on Friday in Baldwin City. Columbus defeated Fort Scott, 41-27, Saturday to advance. The game will be at BHS because the annual rotation for sectional games says the westernmost team in each match-up is due to play host.
"It's 100 percent that we are at home," Berg said. "We like Liston (Stadium), and we like the turf."
Copyright 2018 The Lawrence Journal-World. All rights reserved. This material may not be published, broadcast, rewritten or redistributed. We strive to uphold our values for every story published.