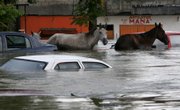 Villahermosa, Mexico — Hundreds of thousands of Mexicans fled a flooded region of the Gulf coast Friday, jumping from rooftops into rescue helicopters, scrambling into boats or swimming out through murky brown water.
President Felipe Calderon called the flooding in Tabasco state one of Mexico's worst recent natural disasters, and pledged to rebuild.
A week of heavy rains caused rivers to overflow, drowning at least 80 percent of the oil-rich state.
Much of the state capital, Villahermosa, looked like New Orleans after Hurricane Katrina, with water reaching to second-story rooftops and desperate people awaiting rescue.
At least one death was reported and nearly all services, including drinking water and public transportation, were shut down.
The flood affected more than 900,000 people in the state of 2 million - their homes flooded, damaged or cut off by high water.
A 10-inch natural gas pipeline sprang a leak after flooding apparently washed away soil underneath it, but it was unclear if other facilities operated by the state-run Petroleos Mexicanos were damaged or if oil production was affected.
Workers tried to protect Villahermosa's famous Olmec statues by placing sandbag collars around their enormous stone heads, and built sandbag walls to hold back the Grijalva River in the state capital.
But the water rose quickly, surprising residents used to annual floods and forcing soldiers to evacuate the historic city center.
The dikes failed Thursday night, and water swamped the capital's bus station and open-air market.
Rain gave way to sunshine Friday, but tens of thousands of people were still stranded on rooftops or in the upper floors of their homes. Rescue workers used tractors, helicopters, jet skis and boats to ferry people to safety, while others swam through water infested by poisonous snakes to reach higher ground.
Calderon met with state officials and flew over the affected areas. The extent of the flooding was clear from the sky - Tabasco state seemed like an inland sea with only rooftops and treetops protruding from the water.
"This is not just the worst natural catastrophe in the state's history but, I would venture to say, one of the worst in the recent history of the country," Calderon said Friday during an emergency meeting with state officials in Villahermosa.
The president ordered the armed forces and federal police to maintain order and prevent looting, and asked residents to remain calm. He canceled a trip to Panama, Colombia and Peru.
"Once we have passed the critical stage ... we are going to reconstruct Tabasco, whatever it takes," Calderon said.
Copyright 2018 The Associated Press. All rights reserved. This material may not be published, broadcast, rewritten or redistributed. We strive to uphold our values for every story published.