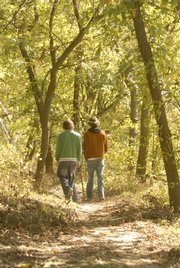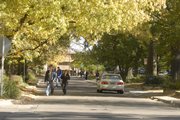 More online info
For more information on trail running in the area - from upcoming events, trail info, advice and information - go to the K.C. Trail Nerds site at psychowyco.com.
Longtime runner Greg Burger was tired of getting hurt.
First there was the hip injury that took him out of running for close to four years. Then, just as he was getting over that, the opposite knee flared up, eventually leading to surgery.
"The injuries started to catch up to me," Burger said. "I decided I couldn't keep pounding myself on the pavement. I needed to do something easier on the body."
So Burger - a competitive runner who completed more than 20 marathons - took his show off the road. Rather than run through city streets, Burger decided to become involved in the growing sport of trail running.
"Trails are a little softer," said Burger, 41. "You use a lot more muscles than on the road. You're always jumping rocks, bones, stumps and other obstacles on the trails. You're using different kinds of muscles, and you don't get the kind of overuse injuries you get on the road."
Burger's story is common among trail runners, but Ben Holmes - a trail runner, co-founder of the Kansas City Trail Nerds club and organizer of several competitive trail runs in the area - is hesitant to describe Burger as typical.
"It's a huge mix," he said. "A lot of mountain bikers and cyclists run with us to keep in shape. A lot of adventure runners run with us, a lot of triathletes, a lot of ex-paved runners. And a lot of people do both. It's a huge mix of people."
And it's becoming more popular.
An estimated 6.7 million people in the United State are trail runners.
Holmes estimates more than 400 trail runners live between Kansas City and Topeka, and he points to the growth of his Psycho Wyco race as proof.
Two years ago, 41 runners participated. Last year, there were 281 runners.
"It's grown steadily," Holmes said, "every year."
What is trail running?
Simply put, trail running is any sort of running off road. Typically, trail runs take place on hiking or mountain-bike trails.
The pace is slower than similar-distanced road runs because of the obstacles and varying terrain.
Obstacles vary from tree branches to roots, and everything - literally - in between.
"I recall running with a group of guys at Wyandotte County Lake, and we had a copperhead snake lunge at one of us," Burger said, going on to describe he was the object of the snake's attack.
Trail runners also have to deal with bugs, poison ivy and spider webs.
"I remember getting up one morning and running on the trails and Clinton," Burger said, "and I think the people in Lawrence could hear me screeching every time I ran into a spider web."
Creepy crawleys aside, trail running offers significant benefits, too.
In addition to challenging more muscles, especially in the body's core because of the uneven surfaces, trail runners tend to be less likely to develop chronic overuse injuries common to road runners.
Just ask Holmes.
He completed 38 paved marathons, including Boston, but constantly battled injuries. He trained both on and off road before leaving pavement more or less behind for good in 2000.
"I realized I recovered faster on trails," he said. "The pavement and repetitiveness of running on the same flat surface at the same pace gave me incredible soreness. Trail running made me less sore."
His chronic lower-body injuries went away, and he even was able to do away with his orthotics.
"It was a re-energizing effect for me," Holmes said.
Like pavement running, trail running has modest equipment requirements: clothes and shoes.
Although it's possible to run off road in regular running shoes, trail shoes provide added protection on the trail.
Burger has one other tip on footwear.
"One of the first things that happened to me, I showed up for a trail run with these guys still wearing white athletic socks," Burger said, chuckling at the memory. "They were making fun of me, saying, 'Those socks aren't going to be white very long.'"
Going long
Trail running tends to lend itself to long-distance runs.
The gold standard for long paved runs is the marathon: 26.2 miles.
Off-road events can be as short as five kilometers (about 3.1 miles) - or as long as 100 miles.
"It just lends itself to that," Holmes said. "I did a 50K (31 miles) at Lake Perry, and it was one of the most perfect trails I've been on for a 50K. You get out there and you don't want to stop. I finished the 50K and thought, 'This is it?' I wished it was a 50-miler."
Reactions like that aren't uncommon.
"The surprising thing is how fast the time goes on the trail," Burger said. "When I was on the road training for marathons, I knew exactly where a mile was. I'd be looking at my watch: 'That one took seven minutes.' On the trail, you don't know where the next mile is. You're just out there, and you look at your watch and you think, 'Oh, my gosh, I've been out here 45 minutes already. That can't be possible. You have your eyes on the trail. There might be wildlife. Your mind is wandering."
He doesn't have to convince Keith Dowell of that.
A four-year runner who has been trail running only about a year, Dowell's longest paved run was a half marathon: 13.1 miles.
This past weekend, he finished his first 50K off-road race. And won his age group.
"I don't know if there's a (50K) race on the road, but I wouldn't want to do one," said Dowell, 53. "A half marathon is about as far as I'd want to go because of all the pounding. And it's boring, too."
The area is loaded with trail-running destinations: There are trails at Clinton, Perry and Wyandotte County lakes, along the Kansas River and near De Soto.
And though it might take a little more effort than simply lacing 'em up and heading out for a paved run from the front door, a trail run is worth the extra effort, Holmes insists.
"It's easy to cop out and run on pavement," he said. "And I have occasionally done that, rather than do it on a treadmill. But, honest to goodness, I always have trail-running shoes and an outfit in the car, ready to go. And I carry a nice, big plastic bag to put on the seat if I'm muddy. I'm always ready to go trail running."
Copyright 2018 The Lawrence Journal-World. All rights reserved. This material may not be published, broadcast, rewritten or redistributed. We strive to uphold our values for every story published.