Bishop Seabury students discuss food drive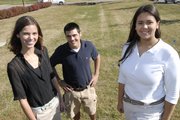 Donation suggestions
Suggested items for Salvation Army, Trinity Interfaith food pantry and Lawrence Community Shelter:
¢ Boxed meals, such as macaroni and cheese or Hamburger Helper.¢ General items, such as peanut butter, jelly, canned soups, canned vegetables and fruits, pasta and boxed cereal.¢ Baby or infant items, such as formula, cereal, diapers, wipes and diaper cream.
Bishop Seabury Academy student senators will have only a cardboard box for shelter tonight.
The 17 students, from seventh through 12th grades, will sleep outside the school at 4120 Clinton Parkway as the kickoff to the academy's annual food drive.
"We're not trying to pretend that we are (homeless), but being out there gives you a better perspective and makes you appreciate what you have. It also really encourages people to bring in cans," said Brooke Sutherland, a Seabury senior.
They also will begin a 24-hour fast after lunch today before their volunteer service projects at The Salvation Army, Trinity Interfaith food pantry and Lawrence Community Shelter.
It will be the second year the student senators camp outside to start the school's annual food pantry. Last year, the students collected 5,000 items, which far surpassed previous drives.
This year, the school aims to collect 6,000 items.
Students are allowed at most two blankets apiece as they camp in front of the school throughout the night with an adult sponsor. Last year, they tried to attach several boxes to create a "condominium," but it didn't hold heat too well, Sutherland said.
They learned that to keep warm, "the smaller the boxes, the better," senior Tim Stuart said.
Family and friends can also bring by food items throughout the night.
On Friday morning, the students will talk about their experience with the entire school and also encourage students to donate more food.
"We're trying to get the word out so we can get more cans," said Bill Gollier, a Seabury teacher.
Later in the day, the student senators will deliver food items to the three agencies, serve lunch at the Salvation Army and start another project at the Lawrence Community Shelter.
"We just want to help the food pantries. Our main goal is to help them," said Christine Caffey, another Seabury senior. "This time, I can bring something in my hand to help them."
During the weeks of the food drive, the school will set up drop-off boxes throughout area neighborhoods.
Copyright 2018 The Lawrence Journal-World. All rights reserved. This material may not be published, broadcast, rewritten or redistributed. We strive to uphold our values for every story published.