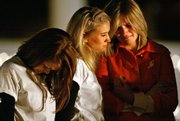 Columbia, S.C. — Smoke inhalation and carbon monoxide poisoning killed the seven college students who died Sunday in a fire at Ocean Isle Beach, N.C., before the flames reached them, the state's chief medical examiner said Wednesday.
"There was no evidence of any other injuries," Dr. John Butts told The Associated Press.
Butts said his office completed its examination of the victims Tuesday, confirming their identifications through dental records.
Jeff Yelton, of Greenville, father of Clemson University student Emily Yelton, said a North Carolina medical examiner told him that his 19-year-old daughter and six students from USC would have been incapacitated after taking just a few breaths of the poisonous fumes from the fire that gutted the two-story beach house that sat on one-story pilings.
"It was a tremendous amount of comfort. That's what we'd been struggling with, the way they died," Yelton said.
"And the medical examiner bent over backwards to explain that they died in their sleep and not from the burns."
Yelton said he also has spoken with the North Carolina State Bureau of Investigation, but they could not yet tell him the cause of the fire.
"They did say it moved extremely fast and was much hotter than most fires. What that means, I don't know."
Copyright 2018 The Lawrence Journal-World. All rights reserved. This material may not be published, broadcast, rewritten or redistributed. We strive to uphold our values for every story published.