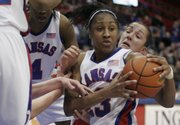 It's not a push to compare Taylor McIntosh to Steve Jobs.
What Jobs is to Apple, McIntosh is to Kansas University's women's basketball team.
"She's the voice," KU coach Bonnie Henrickson said. "They all respect Taylor because she talks the talk and walks the walk."
McIntosh, a 5-foot-11 senior, has earned her teammates' respect by banging and bruising against taller and bigger bodies over the last three seasons without so much as a whimper.
Added Henrickson: "She plays with a heart the size of the state of Kansas."
No one has ever questioned the size of McIntosh's heart. It wasn't difficult to notice, however, that her offensive skills were, comparatively speaking, about the size of Delaware.
During her freshman and sophomore seasons, McIntosh compiled more rebounds than points. Last season she appeared to be well on her way to more of the same. But then she erupted for double-figure scoring in six of the last seven Big 12 Conference games.
In early March in the first round of the Big 12 tournament, McIntosh stunned Oklahoma State with a career-high 19 points and 13 rebounds, just three shy of her career best.
"What a great job she did for us," Henrickson said. "She gives us another dimension when she becomes a scorer."
Not too many years ago, McIntosh wasn't all that sure she wanted to play basketball for the Jayhawks. She had signed a KU letter of intent during the early November signing period, but a few months later coach Marian Washington resigned, and Henrickson was hired.
McIntosh, who had been a standout at Wichita Heights High, could have bailed, but she didn't. For two reasons.
"Bonnie came and had a home visit with me and made me feel welcome," McIntosh said.
Reason No. 2: McIntosh wants to be a pharmacist, and KU has a highly regarded school of pharmacy
"The employment rate is 100 percent for pharmacists," she pointed out. "I have a cousin who graduated in pharmacy, and she's getting job offers from all over."
Twice selected to the All-Big 12 academic team, McIntosh could have been in KU's school of pharmacy right now, but she was convinced she would be better off if she waited until she had completed her basketball eligibility.
"Some sports don't require as much of a time commitment as basketball," McIntosh said. "I was a little disappointed at first, but I'll graduate and then start pharmacy school next year. What's the rush?"
Four years ago, McIntosh was rushing all over the place as she attempted to make the transition every freshman has to make from having lots of time off in high school to having comparatively little free time in college.
"At first I was just lost," she said with a smile. "You just don't know what to expect. I was so naive. Now I have a whole different outlook."
One aspect that hasn't changed is McIntosh's strong bond with her mother, Iris. McIntosh has such respect for her mom that she asked for jersey No. 13 when she came to KU.
"I wore No. 11 in high school, but I wanted to wear the same number she wore in college while I was in college," McIntosh said.
Iris McIntosh played one season for Wichita State University's basketball team in the mid-1980s, then retired from the game after giving birth to Taylor.
Copyright 2017 The Lawrence Journal-World. All rights reserved. This material may not be published, broadcast, rewritten or redistributed. We strive to uphold our values for every story published.