Allergies are nothing new to Anne Weltmer. Like many people, she endures a stuffed-up nose and sinus headaches each year as a transition into summer.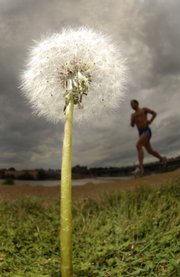 But she can't remember a year that her allergies have been as problematic as this year.
And she says she's not alone.
"It's been really bad this spring," the recent Kansas University graduate said. "The doctor just told me it was bad for everyone, and a lot of my friends have been feeling bad, too."
Dr. Jim Ransom, an allergist with the Topeka Allergy & Asthma Clinic, said that tree and grass pollen counts have been above average this year, possibly contributing to an upsurge in allergy suffering.
"It's too soon to say for sure because the grass season is not over," he said.
Mary Knapp, a climatologist with Kansas State University, said this year's unusual spring weather, which has been soggier than most years, could contribute to more red eyes and scratchy noses.
"It's been a very wet spring, so you've got a lot of mold that would be showing up from that," Knapp said.
Also, Knapp said an unseasonably cold stretch of weather in early April has caused some plants to bloom late and others to bloom again, which has re-released allergens into the air and prolonged the peak allergy season for some people.
The trouble with suffering from outdoor allergies is that they're difficult to escape. Ransom said being around allergens for 15 minutes or less can be enough to trigger a reaction.
"The degree of exposure it takes to turn on a system is really only a few breaths in outdoor air," Ransom said.
The other problem is different trees and grasses release allergens throughout the warm season. Ransom said ragweed and some mold spores get released in summer and into the fall.
"You see, there's something for everybody," Ransom said.
For Weltmer, the annual allergy sufferer who's had to deal with several sinus infections already this year, medications such as Allegra have helped.
Other remedies might be closer to the refrigerator.
Weltmer suggested drinking warm milk and honey to help an itching throat.
"Most of the time it will stop me from coughing," she said.
Copyright 2018 The Lawrence Journal-World. All rights reserved. This material may not be published, broadcast, rewritten or redistributed. We strive to uphold our values for every story published.