Washington — The government is investigating how a globe-trotting tuberculosis patient drove back into the country after his name was put on the no-fly list and given to U.S. border guards - a major gap in the nation's system to keep the direst of diseases from crossing borders.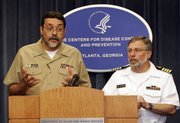 That the Atlanta man and his wife were cleared by border agents told to stop them is one in a series of missed opportunities to catch a patient seemingly determined to elude health officials.
And worried infection specialists say it shows how vulnerable the nation is, from outdated quarantine laws and the speed of international flight, to killer germs carried by travelers. What if, they ask, the now-quarantined man had carried not hard-to-spread tuberculosis but something very contagious like the next super-flu?
"It's regretful that we weren't able to stop that," Dr. Martin Cetron of the Centers for Disease Control and Prevention said of how the man fled when U.S. health officials tracked him down in Rome and told him not to get on an airplane.
Should the CDC have asked Italian health authorities to put the man in isolation there? That was under discussion when the CDC learned the man had fled, Cetron said.
"We need to rely on people to do the right thing," Cetron said, saying the CDC hesitates to invoke its quarantine powers. "Can we improve our systems? Absolutely. There will be many lessons learned from this."
Patient stays a step ahead
The man has a rare but exceptionally dangerous form of TB, a type that international health authorities are desperate to curb because it is untreatable by most medications. The CDC was a step, or more, behind the man on his six-country odyssey. His name didn't get on the no-fly list until he apparently already was en route to Canada, Cetron said.
But the CDC did get word to U.S. Customs and Border Patrol before the man and his wife crossed into the country at Champlain, N.Y., a Department of Homeland Security spokesman said Wednesday.
Customs "is reviewing the facts involved with the decision to admit the individuals into the country without isolation," said DHS spokesman Russ Knocke.
Both Homeland Security's inspector general and internal affairs officials are investigating, reflecting the seriousness of the case, Knocke said.
Congress is probing, too.
The House Homeland Security Committee has scheduled a June 6 hearing.
Sen. Charles Schumer, D-N.Y., said the case "shows that something is wrong with the training and supervision of our border agents. ... I shudder to think that this individual could have been a terrorist."
Outdated quarantine laws
Border security isn't the only issue. While the man now is cooperating with CDC investigators, he remains in federally ordered isolation, in a guarded room in an Atlanta hospital. His identity is being withheld to protect his privacy.
But the nation's quarantine laws are so outdated that if the TB traveler challenged that order, "he would probably win in court," warned Lawrence Gostin, a public health law expert at Georgetown University who has advised the CDC's ongoing effort to update those laws.
"There is a hole" in the nation's disease-security system, Gostin added. "The person's instinct to get back to the United States in this case is understandable. But that's exactly what the law's there for, to prevent a person from endangering other people. ... We need to update the entire process."
Adding to the complexity is the tracking down of roughly 80 passengers who were close enough to the man on two trans-Atlantic flights to potentially have been exposed to TB, plus 27 crew members. The CDC has pushed for years for faster access to electronic lists of air passengers to trace their whereabouts in disease emergencies, and hopes to have new regulations to ease that access in place later this year.
Determined traveler
Where was he missed?
The saga begins in mid-May, when Fulton County, Ga., health department officials say they told the man he had a drug-resistant form of TB and should not travel. The man contacted his hometown newspaper to contradict that, saying he was never told to cancel his May 12 flight for his wedding and honeymoon.
The CDC caught up with him by cell phone in Rome a week and a half later, telling him that updated test results showed he had the worst form of TB, called "extensively drug-resistant" or XDR-TB. Cetron said a CDC official told him not to get on an airplane, that U.S. officials were working on how to get him home, but in the meantime he could seek medical care through the U.S. embassy or Italian hospitals.
The man told the Atlanta Journal-Constitution that he interpreted that conversation as being stuck in Italy, and decided to sneak home, flying from Prague to Montreal and then driving to New York, because he feared he would die without treatment in the U.S.
"I thought to myself: You're nuts. I wasn't going to do that. They told me I had been put on the no-fly list and my passport was flagged," the man said.
Still, the man didn't violate any laws and faces no charges, CDC said.
Copyright 2018 The Associated Press. All rights reserved. This material may not be published, broadcast, rewritten or redistributed. We strive to uphold our values for every story published.