Thirty-six straight times, Tom Gorzelanny stepped into the batter's box and failed to get a hit. So Adam LaRoche, his Pittsburgh Pirates teammate, made a friendly wager.
Knock a base hit before the end of May, LaRoche said, and I'll pay for your golf all summer. Don't get one, and you have to buy me a new driver.
Added motivation in the bank, Gorzelanny stepped to the plate against Florida's Dontrelle Willis on May 14 and slapped a single to left field. He then got a two-run knock his next game and proudly quipped, "I've got a hitting streak now."
An .045 career batting average with the Pirates is no source of pride, but that's OK. It was his left arm that led Gorzelanny from the bullpen at Kansas University to the big leagues.
A starting pitcher for Pittsburgh, the 24-year old Gorzelanny is emerging as one of the best young arms in major-league baseball. He currently has a 6-3 record, and his 2.39 earned-run average this season is third-best in the National League. He has allowed just eight runs in his last six starts.
"I'm not going to say he came out of nowhere," Pirates outfielder Jason Bay told the Associated Press, "but he's our bona fide guy right now. He's our stopper."
It was a quick, almost blurry ascension, considering where Gorzelanny was just five years ago.
Potential was the word tagged on him during his two years with the Jayhawks in 2001 and 2002. But until his final days in Lawrence, it was only that. Gorzelanny red-shirted in '01 because of injury, then struggled as a closer for KU for most of 2002 before he finally started to get it.
Just a year later, he was signing a professional contract and buying a house with his $775,000 bonus after being the 45th overall pick in the 2003 MLB Draft.
Gorzelanny's departure from Kansas was no fairy tale. But in hindsight, he feels his time in Lawrence helped mold him into the promising prospect he is today.
For that, he will keep the fond memories up front.
"As far as my professional career," Gorzelanny said, "it pretty much all started that year at Kansas."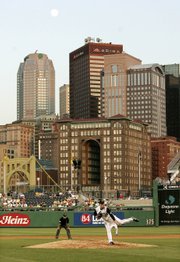 Jayhawk days
Gorzelanny was drafted in the 38th round of the 2000 draft by the Chicago White Sox out of high school, but chose to instead continue his development at KU.
Those around Gorzelanny when he arrived in Lawrence all had the same scouting report: rocket arm, needs some polish.
"You never know if a guy is going to pitch in the big leagues," former KU coach Bobby Randall said. "But he had a good arm, good arm action. He was a good young man. And being left-handed didn't hurt, either."
His gift wasn't immune from exhaustion, though. Gorzelanny showed up in Lawrence with a tired arm, and the closer it got to the 2001 season, the more it became apparent that he wasn't ready for the grind. So all parties agreed a red-shirt was the best idea.
"I knew I had to take another year to get ready," Gorzelanny said.
"One thing we never did was overpitch kids," Randall said. "We tried to protect their arms. I never wanted to ruin a kid's career to win a game in college."
By the fall of '01, Gorzelanny was ready again. Randall and pitching coach Wilson Kilmer had to find a spot for him somewhere in the staff, but with three seniors ticketed to start the weekend games in '02, the bullpen was really the only place he could be used in meaningful situations.
And at that point, he still wasn't the pitcher he is today.
"I think he always had great stuff," KU teammate and good friend Matt Tribble said. "He always had a live arm, threw real hard. But he sometimes had problems with his control."
With things still out of alignment in his pitching, Gorzelanny never had great results as a Jayhawk. In his lone year on the mound for KU, he was 3-7 with a 5.90 ERA, earning three saves.
It wasn't until the last weeks of the '02 campaign that Gorzelanny had a chance to start. But being the team's closer - while not always comfortable for him - gave him a perspective he says he needed.
"It put a lot of pressure on me to come through in games, and I kind of liked that," Gorzelanny said. "But I always knew, in the long run, being a starter was where I wanted to be."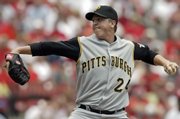 The big step forward
Randall resigned on the last day of the 2002 season, and Kansas hired Ritch Price to replace him. Price soon after hired pitching coach Steve Abney, and Gorzelanny immediately became the prized pupil in what Price called a "night-and-day" crash-course development.
"I thought he was a really nice kid," Price said. "My take on it was, I didn't think he pitched up to his ability, looking at the numbers before we got there."
Abney worked on filling Gorzelanny up with intensity. They reviewed his mechanics. Price loved his talent. He could envision a major-leaguer with every fastball that shot out of Gorzelanny's left hand.
"He improved his slider big-time for us in the fall," Price said, "and his velocity went from like 87 (miles per hour) to 92-94 in that five or six months he was with us."
Gorzelanny's development helped Price rest easier going into his first season as KU's coach. He had a legitimate ace in his rotation, and that was a heck of a start.
"Everything kind of fell in to place," Gorzelanny said. "My arm got stronger, and a lot of things started clicking for me."
Added Price: "He had a really good arm. But when it all of the sudden just comes together for you, and you blossom and get to that next level : he got to that next level that fall."
Bonus baby
Price never had a chance to use him, though. Just days before the Jayhawks departed for Hawaii to open the season in January of 2003, Gorzelanny was forced to leave KU for controversial academic reasons.
Though Gorzelanny had an acceptable grade-point average and passed all of his classes, a Big 12 Conference rule required a certain number of hours be passed with a "C" or better, which Gorzelanny barely missed.
The rule, Price said, was rescinded after that semester because of cases like Gorzelanny's.
With little time to dwell, Gorzelanny rushed back to his native Chicago and enrolled at Triton Community College in nearby River Grove, Ill.
The Jayhawks, meanwhile, had a relatively successful season in '03, going 35-28 and qualifying for the Big 12 tournament. But Price still wondered what might have been had Gorzelanny been able to stay, saying after the season, "We did some remarkable things this year, but I really believe we could've been the story of college baseball if we could've kept him."
Gorzelanny had moved on by that point. He was an all-conference selection at Triton in '03 and had dozens of scouts paying close attention to him. When draft day approached on June 3, 2003, Gorzelanny didn't follow it on the Internet as most prospects do. He didn't have to wait long, though - he was picked in the second round by Pittsburgh.
With that, his decision to go to college paid off in a big way.
"I knew that I could have a good opportunity to get drafted again," Gorzelanny said. "That's why I went to college - to have a better chance to play more and be drafted a little higher. I knew I made the right decision to go to school and get three more years of seasoning. I became a smarter pitcher and a smarter baseball player."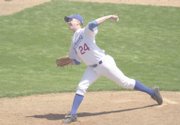 To the show
From there, Gorzelanny's career was a rush. He played minor-league ball in Williamsport, Pa., Hickory, N.C., Lynchburg, Va., and Altoona, Pa., in just two years. After one start at Triple-A Indianapolis, he was a September call-up for the Pirates and made his major-league debut Sept. 20, 2005, squaring off against veteran Andy Pettitte of the Houston Astros. The Bucs lost, 7-4, and Gorzelanny took the loss.
"From what I felt and what I did out there, I know I can pitch up here," Gorzelanny said after his first start. "I know I can be successful up here. That makes me feel good about myself."
Back in Lawrence, former teammates and coaches were keeping a close eye - some amazed at how quickly it all came about.
"I thought he would be a solid major-league starter," Price said. "I really did. But he got there faster than I thought he would've got there. He advanced through the system rapidly."
Gorzelanny joins Philadelphia Phillies reliever Mike Zagurski as the only former Jayhawks currently playing in the Major Leagues. Pitcher Les Walrond has been up and down with the Royals and Cubs in recent years, and Gorzelanny's good friend, third baseman Travis Metcalf, had a three-day stint with the Texas Rangers earlier this month before being demoted.
"It's just a matter of time before he gets up there again and plays every day," Gorzelanny said of Metcalf.
Gorzelanny knows how good that feeling is, too. His strong start - it can be argued he would be a National League-best 10-1 with decent run support - has made him a mainstay in Pittsburgh's rotation. He throws five pitches and lately has had success with almost all of them.
Of course, it's more than stuff. It's attitude, as well - something Abney and Price worked hard to instill in him during the fall of 2002.
"I'm not one of those guys who tries to fake guys. I really like to go after guys and try to challenge them," Gorzelanny said. "That's a big thing for me. My whole approach is I want to go after guys and make them get themselves out."
It's working so far. And back in Kansas, the people who helped get him there are watching closely as the potential - at long last - pours out.
"He's been given an opportunity, he made the most of it, and he's established himself now," Price said, "He's got a chance to have a big-time career."
Copyright 2018 The Lawrence Journal-World. All rights reserved. This material may not be published, broadcast, rewritten or redistributed. We strive to uphold our values for every story published.