Photo Gallery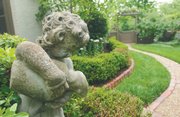 No more secret gardens
Past Event
$8 in advance, $10 at site
When: Saturday, June 2, 2007, 9:30 a.m. to 5 p.m.
Where: Douglas County Fairgrounds, 2110 Harper St., Lawrence
-->
-->
I often think I should be arrested for trespassing.
In my quest to discover the next great garden, I can't help but constantly peek into private property, admiring the handiwork of unsuspecting green thumbs all over Lawrence.
Luckily, the Douglas County Master Gardeners provide a legal outlet for voyeurs like me. Their Garden Tour - which takes place every other year - is going to be spectacular in 2007, boasting nine gardens of various themes and inspirations. If you lean toward adventuresome, the plant-lover's garden will give you some delicious new ideas. If your tastes are more traditional, the Christine and Joel Fritzel's English garden is sure to please.
I previewed it, and let me assure you that it's a sight to behold. My first thought when pulling up to the immaculate estate was that its garden must have been installed by a professional, with every boxwood perfectly in place and yews snaking around the home encasing a bevy of colorful annuals. Surprisingly, I was totally wrong.
"I spend all day in the garden," Christine says. "It is a labor of love ... or stupidity. No, I love it, but it is a full-time job."
The English-inspired garden is no less than perfect. Not a single weed grows there, and the hedges are trimmed in precise shapes and sizes. The sheer assortment of annuals sown into the ground by the hundreds is remarkable in itself. And Christine says she waters each one by hand.
"There are only so many hours in a day," she says. "It is just me, and I hand-water all the annuals myself. I should probably be put in a home," she says, giggling. "We have sprinklers that water the grass, but the flowers are all watered by me so I know exactly how much moisture they are receiving."
She's just as serious about the architectural elements that make this English garden, well, English.
For instance the koi pond on the northern lawn took years to create simply because the shape of the pond was a critical element in the look of the large, open area.
"We would lay out different shapes and paint them in the grass," Christine says. "Then one day we just got the perfect shape. It needed to look English yet fit the shape of the property."
The result is a large rectangle with a semi-circle jutting off one side. Nestled in the circular part of the pond are two angelic figures embraced in a hug, with water trickling down their chins to the water lilies below.
There are ample places to sit and enjoy the garden, whether viewing the row of variegated willow trees that add a twist of drama with their multi-colored leaves, or admiring the huge spherical lilac bush molded by Christine. You might find a seat that brings the blackberry lilies up close and personal, with their orchid-like orange blooms running up and down their stems. With a quick pause, you could inhale the penetrating aroma of a New Dawn rose climbing up the pergola to meet a Don Juan rose.
It might seem that a garden this beautiful is out of your reach, but Christine says it just takes time, energy and research.
"I spend a heck of a lot of time at greenhouses," she says. "I do look at books about gardening, plus I'm full of a million questions and I'm always looking at other people's property and pots. I like experimenting with combinations of color and texture when I'm in the garden.
"It is such a work-in-progress. One year, one plant will look great, then the next year it won't. I'll sit and think about these things all winter."
I can't wait to see what the rest of the gardens on the tour have in store.
Copyright 2018 The Lawrence Journal-World. All rights reserved. This material may not be published, broadcast, rewritten or redistributed. We strive to uphold our values for every story published.