Identigen Ltd. plans to have 30 scientists, technical personnel and support staffers working out of its lab and testing center in western Lawrence by early next year.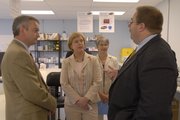 But that's only the beginning.
The Ireland-based company that tests cattle, hogs and meat products with its own proprietary DNA-mapping system - the same technology used to spring unjustly convicted killers from death row and lend plot lines to TV crime dramas - has plans to have 200 to 300 people working in Kansas during the next two or three years.
And they're set to be based out of 4824 Quail Crest Place or somewhere else in Lawrence.
"It is a scalable operation, and what we're doing currently is getting the initial security of the operation absolutely where we want it," said Patrick Cunningham, Identigen's chairman and co-founder. "It's unlikely that we would open up another operation elsewhere in the U.S. because, essentially, we need a center of expertise, and we don't want to disperse that."
Cunningham and other Identigen officials came to Lawrence this week from company headquarters in Dublin, Ireland. Their task: Celebrate the formal opening of Identigen-North America Inc., their operation designed to handle the company's existing demand for testing services in Europe and accommodate an anticipated spike in orders from U.S. meat producers, processors and retailers.
Using Identigen's TraceBack testing technology, customers can definitively determine the source animal for any cut of meat. They simply take a sample from a steak - less than a gram - and send it to Lawrence for testing.
Technicians in Lawrence then search the company's DNA database for a match, such as from an animal swabbed before being processed at a packing plant.
With nearly 35 million cattle slaughtered each year in the United States - and nearly 10 percent of those designated for export - Identigen figures there's plenty of room for company growth in North America.
Cunningham foresees becoming a company generating $100 million a year in revenue by selling tests that add as little as a single penny to the price consumers pay for a pound of beef.
"The opportunity is huge," he said.
Lavern Squier, president and chief executive officer of the Lawrence Chamber of Commerce, noted that an "animal health corridor" running from Manhattan to Columbia, Mo., was responsible for 32 percent of the world's investments in animal health - a share that only looks to increase, now that Identigen is in Lawrence.
U.S. Rep. Nancy Boyda, D-Kan., was among the 100 dignitaries, guests and others attending Wednesday's grand-opening celebration, and urged Identigen officials to help bring more such businesses to the area.
"We just ask that you help us get the word out," she said.
Don Marvin, Identigen's president in North America, already is serving on a state task force that is working to attract a $451 million National Bio and Agro-Defense Facility to either Leavenworth or Manhattan. The lab would help boost the state's economy, he said, and serve as a solid resource for scientific expertise and related services.
As for Identigen, Marvin's busy running pilot tests for potential clients and ramping up to handle the transition of handling samples from Europe - Identigen already handles tests for Tesco, the world's No. 3 retailer, in Ireland - at the Lawrence center.
Identigen's tests allow retailers to certify the source of products that they market as organic, grass fed or in other premium condition. The testing also can isolate problems related to mad cow or other harmful diseases, focusing on the source of potential contamination and therefore limiting the potential for uncertainty in markets and costs that would be borne by retailers or suppliers facing the need for recalls.
Marvin calls it the "magic and power" of TraceBack testing, and compared its base DNA technology to the core testing used in one of TV's most popular shows.
"We have the technology, the experience and scientific know-how to launch 'CSI: Meat Traceability,'" he said.
Copyright 2018 The Lawrence Journal-World. All rights reserved. This material may not be published, broadcast, rewritten or redistributed. We strive to uphold our values for every story published.